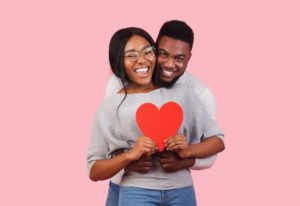 It's February, and that means love is in the air. You're probably planning out the perfect date or gift to get for your significant other. But did you know that romantic love shouldn't be the only kind of love you celebrate this Valentine's Day? That's right, it's time to practice some self-love, specifically for your teeth. Here are a few tips from a dentist on how to love your teeth this February.
Combat Bad Breath
Bad breath might be a common sign that you just enjoyed a great meal with your partner, but they're probably not going to enjoy kissing you afterward if that's the case. Since bad breath is often caused by particles of food getting stuck in your teeth, it helps to carry some floss with you on your date to clean your teeth in the bathroom after eating. Chew some sugar-free gum after that for good measure. It will stimulate the production of saliva, which naturally cleans your teeth and freshens your breath.
Choose Your Treats Wisely
Cross your fingers that your significant other gets you chocolate instead of gummy candies. Sticky treats are more likely to linger in the nooks and crannies of your teeth long after you're finished eating, giving bacteria in your mouth ample time to feast on the sugar and leave behind an acidic waste product that causes cavities. Chocolate, on the other hand, washes off your teeth much more easily. It's also a good idea to avoid hard candies, as sucking on them bathes your teeth in sugar.
Check in Regularly with Your Dentist
According to the American Dental Association, you should be seeing your dentist at least twice a year. At these appointments, your dentist can evaluate the state of your mouth and diagnose problems like cavities and gum disease early on while treatment is still relatively easy and inexpensive. The dental hygienist can also give your teeth a professional cleaning, ensuring that they practically sparkle just in time for your Valentine's Day date!
Valentine's Day shouldn't be all about love for your romantic partner. This February, be sure to show your teeth some love as well!
About the Author
Dr. Richard Thomas is a dentist in Toledo, OH who earned his Doctor of Dental Surgery degree from Case Western Reserve University. He then completed a hospital-based residency in advanced dental treatments for elderly and medically compromised patients. He believes that there's nothing wrong with showing your teeth a little tender love and care this Valentine's Day. To learn more about Dr. Thomas, visit his website.