Dentures – Toledo, OH
An Attractive, Comfortable Option for Tooth Replacement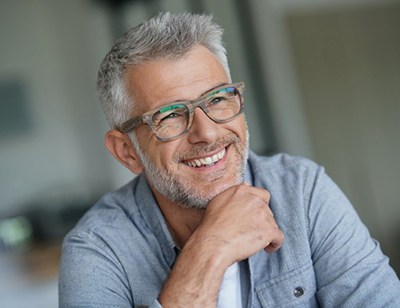 Tooth loss is not an uncommon oral health problem. In fact, more than half of all Americans will lose at least one tooth in their lifetimes, and many will lose more than one. No matter what your situation is, we want to make sure that you rebuild your smile as soon as possible. When you avoid treatment because of embarrassment or fear, you leave yourself open to complications. One option available for tooth replacement at our Toledo, Ohio dental office is a denture. We can create a full or partial denture specifically for you, making sure that your prosthetic feels natural and allows you to smile with confidence. Dentures are often an attractive, comfortable option for tooth replacement.
Types of Dentures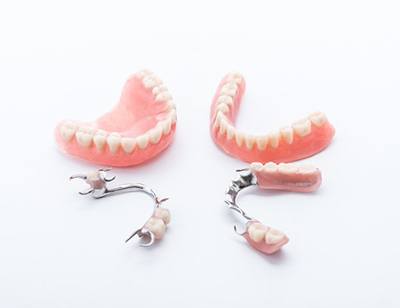 Drs. Thomas, Poole, and Weisenburger can offer one of three different types of dentures to restore your smile back to its former glory. Depending on the state of your oral health and the number of teeth you're missing, we may recommend one of the following:
Full Dentures
For those who are missing all of the teeth along an arch, we can create a full denture. A full denture consists of a gum-like base that supports replacement teeth and is held in place with a combination of natural suction and denture adhesives.
Partial Dentures
A partial denture is designed to fit into a smile when there are still some natural teeth left. Partials include a metal framework that can grasp onto remaining teeth to hold the removable prosthetic in place.
Implant-Retained Dentures
We can also design implant-supported dentures, combining the qualities everyone loves about dental implants with removable prosthetic teeth. The denture can still be removable, but it will snap into place onto titanium posts that have been surgically placed in the jawbone. Because of this, the jaw won't change shape as it normally does after tooth loss. Your denture can then last for years, if not decades, longer than a traditional partial or full denture.
Benefits of Dentures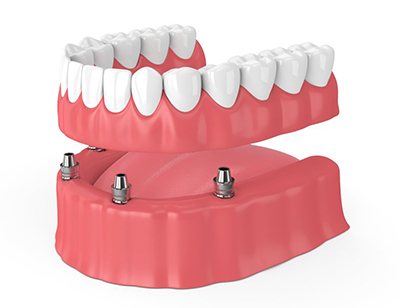 Some of the amazing benefits of dentures include:
Understanding the Cost of Dentures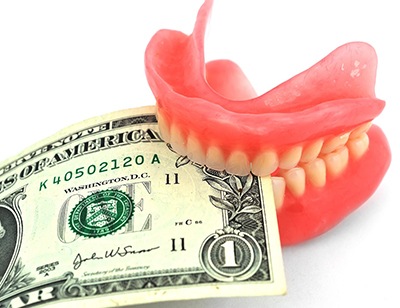 No two smiles are exactly alike. That's why at West Group Dental, we offer high-quality dentures that are 100% custom-made for each patient. That means that the cost of our dentures in Toledo depends on a variety of factors that are different for each patient. During your initial consultation, we'll review your oral health and discuss your goals for your smile to come up with a personalized estimate of costs for your treatment. In the meantime, here are some key points to keep in mind when considering the price of replacing missing teeth with dentures.
Factors that Affect the Cost of Dentures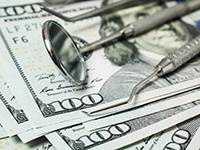 There are three major factors that will contribute to the final cost of your dentures:
Preparatory procedures: Your mouth needs to be healthy before you can get dentures. Preparatory procedures like a tooth extraction or gum disease will add to the overall cost of your dentures.
Materials used: While dentures are typically made from high-quality gum-colored acrylic and tooth-colored porcelain, they can be made from different materials that would influence the final cost.
Type of denture: Typically, the more teeth you're replacing, the more expensive your denture will be. Full dentures usually cost more than partial dentures, and pairing either with dental implants would add to the cost as well.
As you consider your different options for tooth replacement, it's important to keep in mind that the cheapest option is not always the best! Cheaper dentures are likely to be made from low-quality materials and poor craftsmanship. Quality is of the upmost importance when it comes to your smile!
Are Implant Dentures More Expensive?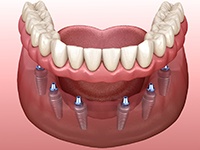 Implant dentures typically cost more than traditional dentures because they require dental implants and a more extensive process. However, while they tend to have a higher initial price, many patients find that their longer lifespan and improved stability make them a worthwhile investment. Thanks to their unique design, they can help you lower your overall oral healthcare costs and won't need to be replaced every five to seven years. In the end, implant dentures may be the more cost-effective choice!
Does Dental Insurance Cover Dentures?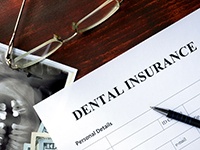 Every dental insurance plan is slightly different, so you'll need to review the details of your specific policy to see if dentures are covered. In general, dentures are considered a major restorative procedure, which typically grants them 50% or more coverage. Our experienced dental team can help you confirm your specific benefits before your treatment begins so you'll know exactly what to expect. We'll even be happy to file your insurance claims on your behalf!
Other Options for Making Dentures Affordable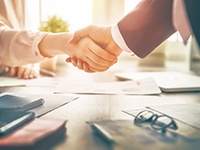 Are you still concerned about the cost of dentures? We always go above and beyond to make caring for your smile easy and affordable, which is why we've partnered with Wells Fargo to offer financing options. With the Wells Fargo Health Advantage credit card, you can enjoy an open line of credit for all your healthcare needs and convenient monthly payments that fit into your budget. To learn more about how much dentures cost or to begin your journey towards a complete smile, give us a call today to schedule your consultation.