Full Mouth Reconstruction – Toledo, OH
Get Your Smile's Health Back on Track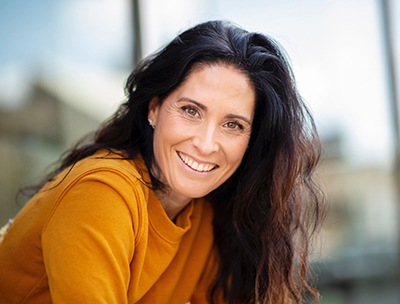 Due to genetics, physical trauma, or past missteps in oral care, some patients suffer from severe and complex dental problems. If that sounds all too familiar, you can rely on us for help. Full mouth reconstruction is a customized treatment plan that may involve several different procedures, all of which can work together to get your smile's health back on track. To learn more about this restorative service or schedule a consultation, get in touch with our Toledo dental office today.
Why Choose Dental Group West For Full Mouth Reconstruction?
Compassionate & Caring Team
Beautiful, Natural-Looking Results
Partnered With Local Specialists
Is Full Mouth Reconstruction Right for Me?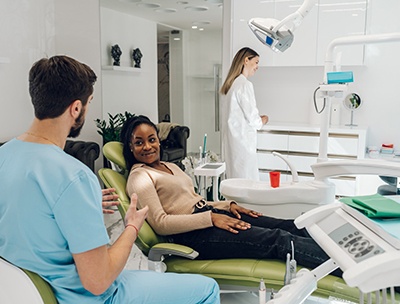 If you are struggling to cope with extensive dental problems, such as missing and broken teeth or advanced gum disease, you might benefit from full mouth reconstruction. This is true even if you have been afflicted by such issues for many years. You can rely on your dentist to provide compassionate, judgment-free help as you take charge of your smile's well-being.
Following full mouth reconstruction, you can expect to enjoy dramatically improved oral function, a more attractive smile, improved confidence, and other noteworthy benefits. This service has changed many patients' lives, and it may be able to impact yours as well!
The Full Mouth Reconstruction Process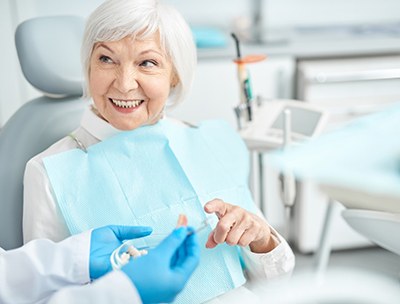 The process begins with a consultation. Your dentist will carefully listen to your concerns, learn about your goals for treatment, and perform a thorough examination. Then, they will determine which specific procedures you should undergo in order to enjoy optimal results.
Your full mouth reconstruction plan might include:
Periodontal therapy to improve the health of your gums
Dental implants or other forms of tooth replacement to rebuild lost dentition
Crowns or fillings to repair decayed and damaged teeth (or to replace old, unsightly restorations)
Cosmetic treatments to put the finishing touches on your restored smile
Understanding the Cost of Full Mouth Reconstruction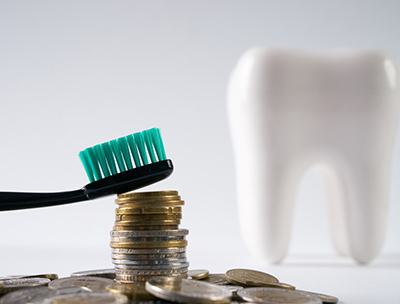 The cost of full mouth reconstruction depends on which specific procedures you undergo and the extent of those treatments. During your consultation, we will be able to provide a personalized price estimate. We will also assist as you explore your payment options. We want the financial aspect of your care to be as stress-free as possible!
Keep in mind that although full mouth reconstruction can seem pricey, it is a smart use of your funds. Plus, because it is an efficient, streamlined process, it is often more affordable than getting various restorative treatments done here and there.
Full Mouth Reconstruction FAQs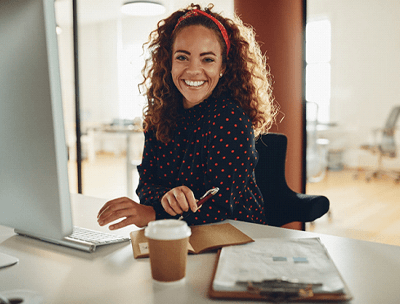 Feeling motivated to get your grin back on track but wondering if you may need more than one dental treatment to get there? Don't worry, a full mouth reconstruction can facilitate the improvement with a combination of select restorative and cosmetic services. Your cosmetic dentist in Toledo is ready to help you get there. Before you schedule a consultation, it makes sense that you might have some preliminary questions. On that note, our team here at Dental Group West has compiled some frequently asked questions from past patients. If you don't see your question below, be sure to contact our office!
How Long Will My Full Mouth Reconstruction Results Last?
The answer truly depends on the treatments you're getting. Though traditional dentures can last for 10 years with proper care, the lifespan of dental implants can be more than three decades. While dental bonding can provide you with a smile upgrade for several years at a time, veneers can last for 15-plus years. If you are unsure of the longevity of your investment, don't hesitate to ask during your initial consultation.
Will People Be Able to Tell That I Had a Full Mouth Reconstruction?
If your teeth were severely misaligned, badly chipped, or plagued with stubborn stains, then it's very likely that people will be able to tell you've had a full mouth reconstruction. Rest assured, the only attention you draw will be positive! After all, each treatment plan is 100 percent customized to the patient, considering their facial structure, skin tone, age, and personal preferences. So, you can have peace of mind knowing the end result won't turn heads for the wrong reasons.
I've Had a Full Mouth Reconstruction – Is There Anything I Can't Eat?
Whether you are getting dental crowns, veneers, dental implants, or something in between, there is a good chance you'll need to stick to soft foods in the beginning. Yogurt, hard-boiled eggs, oatmeal, and soup are all great options. Once you've healed and your permanent restorations are in place, you'll have the green light from your dentist to enjoy all your favorites again. Just make sure to continue to exercise caution with hard, sticky, or sugary foods.
How Do I Care for My Smile After Full Mouth Reconstruction?
Whether you replaced all your teeth with dental implants or enhanced a few with veneers and dental crowns, taking care of your new-and-improved smile is imperative. Doing so requires a commitment to a solid oral hygiene routine. Some crucial best practices include brushing for two full minutes both morning and evening, flossing daily, limiting your consumption of sugar, and visiting your dentist every six months for a checkup and cleaning. You should also avoid unhealthy dental habits, like smoking, nail-biting, chewing on ice, and using your teeth as tools to open things.
How Long Does a Full Mouth Reconstruction Procedure Take?
Since the treatment plan is different for every full mouth reconstruction in Toledo, there isn't a one-size-fits-all answer. The number of services you're getting and the type of smile-enhancing solution you're considering are two examples of factors that will play a role. For example, porcelain veneers are a popular cosmetic dental treatment that can transform your smile in as little as two appointments. On the other hand, dental implants can take six-plus months to complete depending on the extent of your tooth loss and your smile goals. Don't worry, our cosmetic dentist can provide you with an estimate during your initial consultation for a full mouth reconstruction.