Invisalign in Toledo
Healthy, properly aligned teeth are largely considered to be the fundamental components of any beautiful smile. If your teeth are crooked, crowded, or gapped, you may feel hesitant to smile in the presence of family, friends, coworkers, or in social situations. Fortunately, modern dental technology makes it possible for you to achieve the evenly balanced, confident smile you want and deserve, all without any of the drawbacks of traditional orthodontic treatment. At Dental Group West, our team of expert doctors offers a variety of cosmetic dentistry procedures, including the revolutionary Invisalign orthodontic system.
How Does Invisalign Work?
Like the traditional metal braces most patients associate with orthodontic treatment, Invisalign clear aligners gradually shift misaligned teeth into their proper positions over time. Unlike conventional braces, however, the Invisalign system utilizes clear, BPA-free acrylic aligners instead of metal or ceramic brackets and wires.
First, our doctors will take precise measurements of your dentition during a one-on-one consultation at our Toledo, OH office. Impressions and x-rays of your teeth and jaw will provide us with the data needed to have your Invisalign clear braces custom-made just for you. This data will be sent to a certified Invisalign lab where your aligners will be fabricated and then sent back to our office. It is then that your journey toward a straighter smile begins!
In most cases, a patient will use each set of his or her aligners for approximately two weeks before graduating up to the next. Depending on your individual case, you may use between 20 and 30 sets of aligners over the course of your treatment. You'll visit our office every four to six weeks for a quick appointment to ensure that your teeth are gradually becoming straighter as planned. When treatment is complete, you'll enjoy a straighter, healthier smile that you'll be proud to show off to those who matter most.
Benefits of Invisalign Clear Braces
As with any cosmetic dentistry service, Invisalign helps you achieve an aesthetically pleasing smile by correcting common orthodontic concerns like crookedness, mild crowding, crossbite issues, and mild to moderate gapping, overbite, underbite, and more. As compared to traditional orthodontic treatment, Invisalign is considerably more comfortable. There are no brackets or wires to irritate the lips or the insides of the cheeks, and the clear aligners lie smooth and flush against your teeth. The material used to construct your aligners is almost entirely invisible to others, so you can feel free to smile and laugh confidently even while you're undergoing treatment.
In addition, Invisalign patients tend to experience fewer problems with cleaning their teeth and gums because their aligners are easily removed for eating, brushing, and flossing. Because there are no dietary restrictions with Invisalign, you can still enjoy all of your favorite foods while your teeth are being straightened – something you can't always do with metal braces. Perhaps the most obvious and often mentioned benefit of Invisalign, however, involves how great patients feel knowing that they're correcting their smile's alignment in a way that is truly simple, convenient, and comfortable. The Invisalign treatment you'll receive at Dental Group West is engineered to fit your unique lifestyle and needs.
Understanding the Cost of Invisalign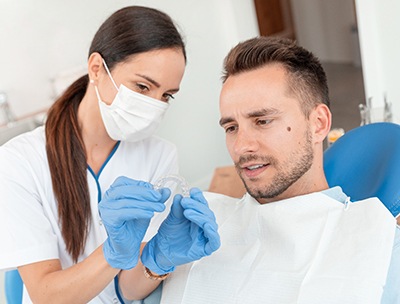 Invisalign treatment is an investment in both time and money – one that will pay off for many years to come! Because no two set of teeth are exactly the same, there is no one-size-fits-all cost of Invisalign in Toledo. During your initial consultation, your dentist will provide you with an accurate cost estimate so you know what to expect. They will also discuss different payments options to ensure that Invisalign fits within your personal budget.
Factors That Affect the Cost of Invisalign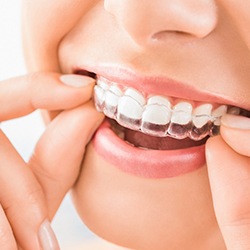 The cost of Invisalign can vary from person to person based on a few different factors, such as:
One arch or both – Most people straighten both the upper and lower teeth at the same time. Straightening a single arch logically costs less then straightening both.
Number of aligners – If your teeth are severely misaligned, you will likely need more time – and more aligners – to straighten your smile.
Your commitment – If you take your aligners out often your results will be delayed.
Invisalign vs. Smile Direct Club™: Which Costs More?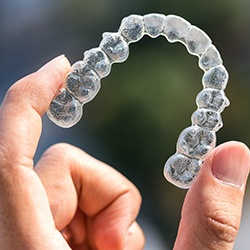 Some patients ask us if Smile Direct Club is a good alternative to Invisalign. The truth is that if you're only looking for a "quick fix" at a low cost, then Smile Direct Club wins. Invisalign typically costs anywhere between $3,000 and $8,000, while Smile Direct Club is a little under $2,000.
However, it's important to consider the key differences between the two aligner systems. Smile Direct Club is a "do-it-yourself" clear aligner kit with little to NO oversight from a dental professional. If you make a mistake when creating impressions or do not follow the treatment process correctly, you could end up with serious issues for your smile that will require professional treatment anyway.
At Dental Group West, one of our experienced Invisalign dentists in Toledo will guide you through every step of Invisalign treatment. You can expect professionally made, highly accurate impressions and a smoother, more successful treatment process overall. If you want the peace of mind of a quality cosmetic service, the cost if Invisalign is worth it.
Does Dental Insurance Cover Invisalign?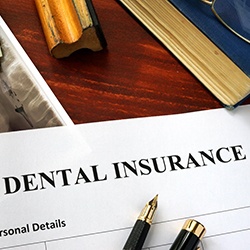 Many dental insurance plans do not include coverage for traditional braces or Invisalign in Toledo. However, every insurance plan is different! Before committing to orthodontic treatment, check with your dental insurance company to confirm your coverage. In addition, if you have a Flexible Spending Account through your employer, you can likely use those funds to help cover the cost of Invisalign. Our knowledgeable team will be happy to help you understand the details of your insurance plan and maximize your benefits.
Options for Making Invisalign Affordable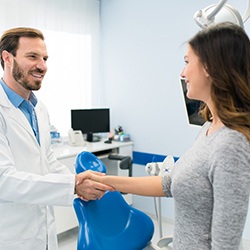 Regardless of your insurance status, there are plenty of other options to afford clear braces. For example, we offer convenient dental financing through Wells Fargo. A trusted partner, Wells Fargo allows patients to break down the cost of Invisalign treatment into manageable monthly payments. Their plans often come with low interest and can be customized to fit within your budget.
If you want to learn more about affordable Invisalign financing and payment options, just let us know! Our team will gladly go over the financial aspects of Invisalign treatment with you to ensure you get the straight smile of your dreams without breaking the bank.
Schedule Your Consultation Today
If you'd like to begin enjoying the innumerable benefits of a straighter, more confident smile in less time than ever before, contact our office in Toledo, Ohio today and schedule your Invisalign consultation with our caring and experienced team of dentists. We can't wait to show you what a difference our vast range of cosmetic dentistry treatments can make in your life and in your overall well-being. Our patient-centered practice warmly welcomes families from throughout Toledo and the surrounding communities, including Bowling Green, Sylvania, Oregon, Perrysburg, and more.
Invisalign FAQs
Whether you had traditional braces in the past or you're interested in getting orthodontic treatment for the first time, it's natural to have lots of questions about Invisalign in Toledo. How long does Invisalign take? Will it hurt? What happens after I'm done with treatment? The good news is that our dental team is here to answer all of these questions and more!
How Long Does Invisalign Take?
While each treatment plan varies, the average time with Invisalign is 12 to 18 months. If your misalignment is more minor, then you may work through your series of trays in as little as six months! The best way to work through your treatment as quickly as possible is by following all of your dentist's instructions, like wearing your aligners for 22 hours a day and switching to your trays on the right days.
Does Invisalign Hurt?
Of course, orthodontic treatment of any kind comes with some soreness. The good news is that Invisalign is significantly more comfortable than traditional braces. Since the aligners are crafted from high-quality, smooth plastic, you won't have to worry about sharp brackets or wires. Plus, any discomfort that you do experience will typically subside within a few hours. If it persists, then don't hesitate to use a cold compress or take an over-the-counter pain reliever (just be sure to check with your dentist first).
What Happens After Invisalign?
Once your Invisalign treatment is finished, we will provide you with a custom-made retainer. Designed to prevent orthodontic relapse, your retainer will keep your teeth in place as they "set" in their new positions. The exact wear time will depend on your unique dental needs, but many patients need to commit to a lifelong practice of wearing it each night.
Can You Eat with Invisalign?
You can't eat with your Invisalign aligners in since this would increase the chances of them warping or breaking altogether. You can, of course, eat whatever you'd like after you've removed them. If you have a lot of attachments, then it's still a good idea to avoid super crunchy or hard foods, like pretzels, tortilla chips, and whole apples. Instead, opt for softer, nutrient-dense foods, like oatmeal, vegetable soup, and yogurt.
How Do I Clean My Invisalign?
Fortunately, cleaning your Invisalign aligners is easy. After you've removed them from your mouth, rinse them under clean, room temperature water. Next, use a soft-bristled toothbrush to gently scrub each surface before rinsing them off again. It's that simple! If your aligners begin to look a bit yellow or have a funny smell, then you can use the Invisalign cleaning crystals to provide them with a deeper clean. Simply place your aligners in a cup of room temperature water and add a packet of cleaning crystals to the mix. Gently shake the container, allowing the crystals to dissolve in the process. After about 15 minutes of soaking, rinse off your aligners and put them back in.