Sedation Dentistry – Toledo, OH
Offering a More Calming Dental Experience
For some, the thought of going to the dentist brings up strong feelings of anxiety. We know how harmful this can be to your oral health. A lot of people suffer needless dental damage and disease because they don't want to experience discomfort at the dental office. But that's why we offer sedation dentistry at Dental Group West in Toledo, Ohio. We offer nitrous oxide, oral sedation, and even IV sedation to help patients find the level of comfort that works best for them. At Dental Group West, we take the edge off so that you can easily receive the dental care that will save your smile.
What is Sedation Dentistry?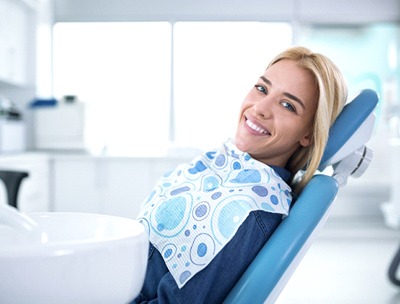 Oral Conscious Sedation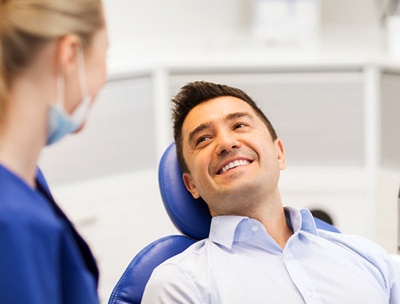 Oral sedation dentistry has become very popular for a number of reasons. If you have serious dental anxiety or need a lot of dental work done, oral sedation is a great choice for countering the discomfort and helping you feel relaxed during the process. Oral sedation dentistry is easy; you simply take a pill provided by our office, and this pill induces a deep state of relaxation. It is highly unlikely that you will remember much of your visit, but you will be alert enough to respond to commands by our team.
You will need someone to drive you home after your treatment, however. Oral sedation dentistry is stronger than nitrous oxide and takes longer to wear off.
What is Oral Conscious Sedation?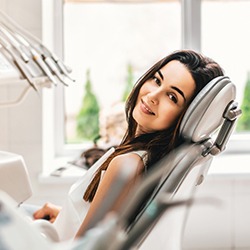 To receive oral conscious sedation, there are no needles to inject or masks to wear. If you're someone who suffers from dental anxiety, nervousness, or fear, it can provide the moderate sedative effects necessary to make your care possible. The way it works is relatively straightforward. We'll ask you to take a pill either right when you arrive or slightly before your appointment. This pill is typically Valium, Ativan, or Halcion, all common sedatives used in dental settings. Since the effects can be long-lasting, you will need to have a friend or family member drive you to and from our office.
How Does Oral Conscious Sedation Work?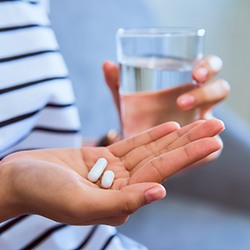 The effects of the sedative take about 15 minutes to kick in, but they can linger well after your appointment is already complete. Pretty soon, you should start to feel incredibly relaxed, calm, and prepared to complete your procedure. In many cases, patients don't remember much (if any) of their appointment, making it especially ideal for those very sensitive to stimuli typically found in a dental office.
Our dental team will closely monitor your vital signs and comfort levels to ensure you're safe and sound from start to finish. You'll still be conscious during your treatment, so you can respond to basic commands and let us know how you're feeling.
Are You a Good Candidate for Oral Conscious Sedation?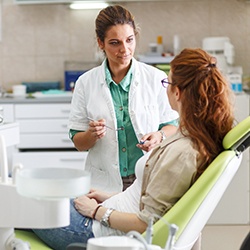 Oral conscious sedation is most ideal for those with moderate levels of anxiety, but it's hardly the only group that can benefit from its use. For example, those with the following may also want to explore sedation options when visiting the dentist:
A tendency to cancel appointments at the last second due to feeling nervous or afraid of hearing bad news
A sensitive gag reflex
The need to complete several appointments at a time (or one very long procedure)
Difficulty keeping their mouth open for long periods of time
Difficulty feeling the effects of anesthesia
Negative dental experiences in the past
Nitrous Oxide Sedation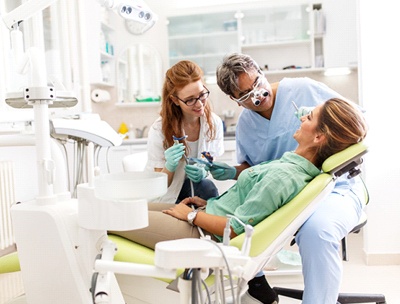 Nitrous oxide in Toledo is the lightest form of sedation dentistry and is typically used on patients who experience mild dental anxiety. It has been used in dentistry for over a century. Also known as "laughing gas," nitrous oxide is inhaled through a mask and provides feelings of relaxation and even euphoria. One of its greatest benefits is that it wears off fairly quickly; you can undergo treatment with nitrous oxide and drive yourself home afterward without help. Nitrous oxide is commonly used during treatments like dental cleanings that are mildly or moderately uncomfortable. If you are interested in learning more about this mild form of sedation, contact us today to schedule an appointment.
Who is a Good Candidate for Nitrous Oxide?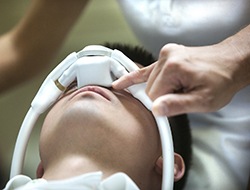 Nitrous oxide is a great sedation option for both children and adults. Safe and effective, it is ideal for patients who suffer from:
A fear of needles
Mild or moderate dental anxiety
A strong or sensitive gag reflex
Difficulty sitting still for extended periods
Dental sensitivity
Difficulty with numbing agents
Although a safe option for most patients, there are certain instances where it should be avoided. These include:
Individuals who are pregnant
Those with sinus congestion
Those with respiratory disease
Individuals taking certain medications that can negatively interact with sedation
How Does Nitrous Oxide Work?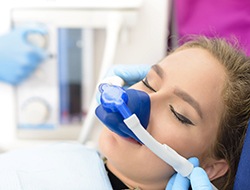 The process of receiving nitrous oxide is quite simple. Your sedation dentist in Toledo will put a nose mask in place and instruct you to begin inhaling the nitrous oxide and oxygen mixture. Within a matter of minutes, you will begin to feel lightheaded and more relaxed. You might feel some tingling in your extremities as you become more comfortable.
One of the major benefits of nitrous oxide sedation is the effects quickly dissipate once the gas is turned off. This allows you to drive home immediately following your appointments and resume normal activity. You won't need to worry about any lingering effects. This is vastly different than if you were to receive oral conscious sedation or IV sedation.
Aftercare for Nitrous Oxide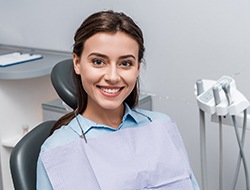 Once the gas is turned off, you will need to stay at our office for a few minutes to ensure you feel like yourself. Most patients will not experience lingering effects; however, we must be sure you are fine to drive. Once we are comfortable that you are feeling like your normal self, you can return to work, school, or home and resume normal activities after your appointment.
If you received any follow-up instructions from your dentist, make sure to abide by the guidelines, as they will ensure a successful and swift recovery.
IV Dental Sedation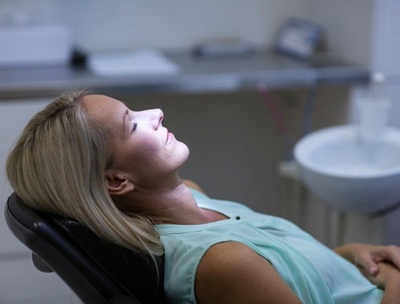 ­IV sedation dentistry isn't offered at very many dental offices in the Toledo, Ohio area. IV sedation is a lot like oral sedation, but by delivering it intravenously, we can provide a more personalized sedation dentistry experience. We can closely control your level of sedation and make sure that you're completely comfortable at all times. Since the effects of IV sedation can take time to wear off, it will be important to have someone escort you to and from your dental appointment. Read on to learn more about this powerful form of dental sedation.
What Is IV Dental Sedation?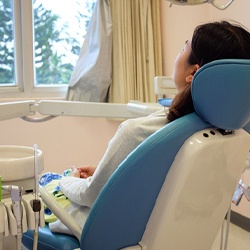 As its name suggests, IV dental sedation is administered directly into the blood stream via a small needle placed in the arm or the back of the hand. This allows the effects of the sedative to come about quickly, and in a matter of moments you'll feel as if you have drifted off to sleep. Despite this, you'll remain conscious with IV sedation, making it a much safer alternative to general anesthesia. While you'll be able to respond to very simple instructions, you won't register any of the sights, sounds, or sensations that would typically cause you discomfort. In fact, some patients drift off during their appointment!
Our experienced team will monitor you closely while you're sedated. If needed, we'll be able to adjust your level of sedation at any time to ensure your comfort and safety. IV dental sedation helps patients stay still for extended periods of time, which in turn allows us to work faster. After your appointment, you'll still feel very groggy. You'll need a trusted friend or family member to take you home, and you should expect to spend the rest of your day relaxing. The sedative will wear off in several hours, and you will not likely have any memories of your treatment.
Who Is a Good Candidate for IV Dental Sedation?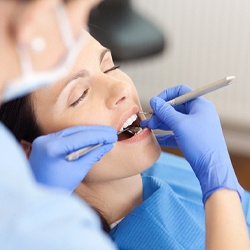 IV dental sedation is not a good choice for everyone. Very young or older patients will likely be better suited for nitrous oxide or oral conscious sedation. patients who are breastfeeding, taking certain medications, or who have certain illnesses may also not qualify for IV sedation. Instead, this option is typically a good choice for patients with severe dental phobia or who are undergoing long, complex treatments. It's also a good choice for patients who don't respond to numbing medication well or who have trouble sitting in the examination chair for long periods of time.
The Benefits of IV Dental Sedation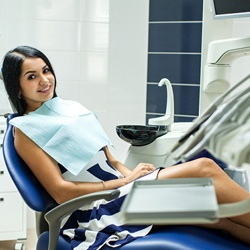 Relaxing with IV dental sedation offers benefits like:
Comfortably getting the important dental care you need
Having several treatments completed at once, or completing a larger procedure in one appointment instead of several
You likely won't remember anything about your appointment afterwards
Your dosage will be completely personalized to your unique needs and can be adjusted at any point for maximum safety
Schedule an Appointment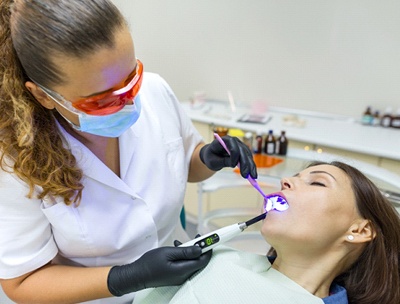 Want to make an appointment with Dental Group West? Contact our Toledo, Ohio dental office today and schedule your next visit. Let us know if you're interested in sedation dentistry so we can go over any information you might need prior to your appointment.
Sedation Dentistry FAQs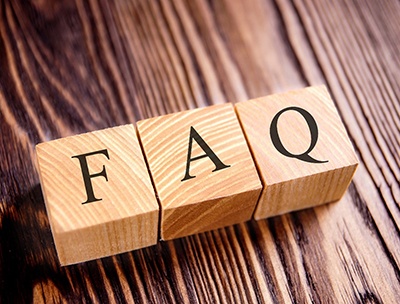 With sedation dentistry, you no longer need to let dental anxiety hold you back from a comfortable treatment! However, you may still have some unanswered questions. Here are the answers to some of the most common questions we are asked about sedation dentistry in Toledo. If you don't see the information that you're looking for below, don't worry! Give us a call and we'd be more than happy to answer your questions.
Is Sedation Dentistry Safe?
Dental sedation, particularly nitrous oxide, is perfectly safe for most patients. Before deciding whether to administer sedation, your dentist will go over your medical history and current medications to find out if there may be any negative interactions. Be sure to let your dentist know about both prescription and over-the-counter medications you are taking. During your procedure, our dental team will closely monitor your blood pressure, oxygen levels, heart rate, and other vitals at all times to ensure your safety.
Will I Remember Anything with Dental Sedation?
Even though you're technically awake with most forms of sedation, chances are you won't remember much of your procedure. In general, IV sedation is more likely to make you forget your experience in the dentist's chair compared to oral conscious sedation and nitrous oxide. The memory loss effect of sedation actually helps patients with extreme anxiety and/or negative past dental experiences get the oral care they need. If your dentist administers general anesthesia, you definitely will not remember anything because you will be fully unconscious during the procedure.
Am I a Good Candidate for Sedation Dentistry?
If you experience dread or severe anxiety at the idea of going to the dentist's office, you might benefit from sedation dentistry. Putting off oral care due to fear will only allow minor issues to worsen and become serious problems. You might also be a good candidate if you have a low pain tolerance, a sensitive gag reflex, or difficulties sitting still or holding your mouth open for prolonged periods of time. If you'd like to get extensive dental work done in one setting, dental sedation can make for a more comfortable experience. Patients who are pregnant, have certain medical conditions, or are taking certain medications might not be good candidates for sedation. Your dentist will go over your medical history and list of medications beforehand to find out if sedation is right for you.
How Much Does Sedation Dentistry Cost?
The cost of sedation dentistry in Toledo usually depends on how long a patient is under the sedative's effects. Oral conscious sedation is an exception, as the dosage cannot be changed after the patient takes the pill. In general, IV sedation and general anesthesia cost more than other sedation options because they involved greater risks and require more training to administer. While most dental insurance plans do not cover dental sedation, we do offer convenient payment plans through Wells Fargo. Dental financing from Wells Fargo allows qualified patients to get the dental work they need now and pay later. Ask our staff for more details!