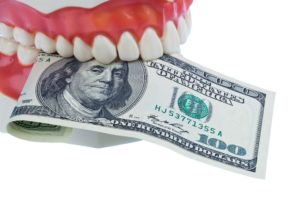 Tax time is here again! Do you have plans for your tax return this year? Why not invest it in something meaningful, like your self-esteem? You can get the beautiful smile you deserve using your tax return. Whether you're missing teeth, or you're dissatisfied with your smile's appearance, your cosmetic dentist can help using advanced solutions, like dental implants. You'll give your confidence a boost and enjoy a gift that keeps on giving by achieving the smile of your dreams.

Complete Your Smile with Dental Implants
If you've lost a tooth or two over the years, you're not alone. As much as 120 million Americans are missing one or more. Whether you've lost a single tooth, multiple teeth, or an entire arch, an incomplete smile significantly impacts your quality of life and your oral health. While there are various treatments available, only one closely mimics your natural smile. Dental implants are a close replica of your real teeth.
A titanium implant post is surgically placed into your jawbone to act as a new root. The post stimulates your jaw to promote bone growth. Your jaw will fuse to the post, allowing it to potentially stay in place forever while also providing a stable foundation for your restoration. Your restoration is made of all-ceramic material to look natural. It's connected to the post using an abutment.
With over a 95% success rate, you'll invest your tax return in a treatment that can last for a lifetime. You can speak, smile, and chew without any worry knowing new teeth look and feel natural.
Transform Your Teeth with Porcelain Veneers
If you're unpleased with your smile because of discoloration, chips, or gaps, you can achieve the picture-perfect smile you want with porcelain veneers. A thin shell is bonded to the front surface of a tooth to cover a variety of aesthetic concerns using just one treatment. This improves your tooth's overall color, size, and shape using a minimally invasive procedure.
Porcelain is the preferred material because it closely mimics your enamel to look natural. It also allows the veneers to be thinner, so less of your enamel is removed during the bonding process for a less invasive procedure. In as few as 2 appointments, you can have a radiant smile that can last for a decade or longer with the right care.
Get a Flawless Smile Today
Whether you need dental implants, veneers, or both treatments, use your tax return wisely this year. Invest in your confidence and your quality of life with cosmetic dentistry.
About Dr. Richard Thomas
Dr. Richard Thomas not only earned his dental degree, but he also has training in medical technology, dental reconstruction, and cosmetic dentistry. In fact, he trained at the Las Vegas Institute for Advanced Dental Studies. He uses his extensive qualifications and training to teach many complex dental issues, like disorders of the temporomandibular joint. If your smile is less than perfect, Dr. Thomas has the experience you can depend on. Contact our office today to schedule your consultation.