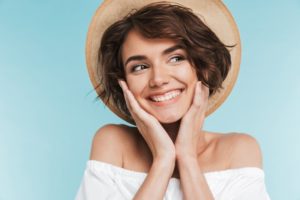 Summer may be known as the time that you relax, but when you're not sleeping in, you're busy making memories with family and friends. Weddings, family cookouts, pool parties, graduations and vacations are all staples of your summer fun. However, your chipped or stained teeth could keep you from making the most of these moments and smiling easy. If the countless photos and videos taken have become a point of anxiety for you and your confidence lowers with every click of the camera, this post is for you.
Fortunately, there are many cosmetic dental procedures available to help reclaim your smile just in time for the summer. From teeth whitening to veneers, you can enjoy a personalized option to keep your smile wide and your vacation stress-free.
Say Goodbye to Stains with Teeth Whitening
From toothpastes to strips, you can find dozens of products promising to whiten your teeth at your local drug store. However, exploring whitening options with your dentist is the most reliable way to brighten your smile significantly. Many dentists offer a simple yet custom option with teeth whitening trays.
Whitening trays are take-home products that don't interrupt your busy schedule. All you need to do is add the whitening solution.  After snapping on the custom fit trays to your teeth, you can go about your day, only needing to wear them for a few hours. Once your custom whitening trays have been made, they can be used over and over, brightening your smile with as little hassle as possible.
Restore Your Smile with Bonding and Veneers
To get rid of the dents and chips in your smile, tooth bonding and dental veneers offer an easy way to achieve dramatic results. Both procedures are meant to fix minor flaws in your smile, but it's important to figure out which would be best for you.
Tooth Bonding
Out of the two, tooth bonding is the simpler and cheaper option. To remove the imperfections, your dentist will apply a resin to your tooth, smoothing and polishing the material before it hardens. The resin is made to match the color and sheen of your natural teeth. The procedure is quick and usually completed in a single visit.
Porcelain Veneers
Porcelain veneers are custom, wafer-thin shells that are attached to the front of your teeth. They address a wide variety of imperfections, including cracks, chips, stains and other types of wear. Veneers resist stains better than tooth bonding and will appear more natural. It is important to note that unlike tooth bonding, dental veneers are irreversible. However, they offer a permanent way to restore or transform your smile.
These treatment options can get your smile ready for summer and all those pictures. That way you can focus on enjoying each precious moment. Whether you're relaxing by the pool or catching a Toledo Mud Hens' game, your dentist can help you make the most of your summer with a bright smile and happy heart.
About the Practice
At Dental Group West, Drs. Thomas, Poole and Weisenburger offer comprehensive care that puts patients' comfort first. They are members of the American Dental Association, the Ohio Dental Association and the Toledo Dental Society. Dental Group West offers a full list of dental care services, including the latest in cosmetic dentistry. If you have further questions about achieving your dream smile, they can be contacted through their website or at 419-539-2168.