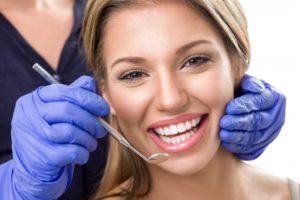 If you haven't been to a dental office in a while, it can be understandably difficult to feel comfortable relaxing in a dental chair. With the end of the year approaching, we want everyone to receive the dental care they truly need without worry.
That's why your local dental practice has a sedation dentist in Toledo within the office! With the help of a calming, safe sedative, you can achieve the healthy smile you need to start 2018 off on the right foot. Learn more in this week's blog post!
Why Might Patients Need Sedation Dentistry?
As mentioned above, there are some patients that may need sedation dentistry because they are scared to go to the dentist. Just because you have a fear of visiting a dental practice, doesn't mean that your smile doesn't need the professional care to stay strong over the years.
Dental fear can affect patients at any age and we're here to help both younger and older patients—despite their reasoning. We can provide the appropriate sedative to help any patient relax. Sedation is also great for patients that may have disabilities or special needs that could interfere with their dental treatment. You could be the perfect candidate for sedation dentistry if you:
Cannot tolerate even low amounts of pain and have extensive dental work to complete.
Have trouble sitting in the dental chair for extended periods of time.
Have sensitive teeth and gums.
Have a reactive gag reflex.
Need to receive multiple dental treatments and procedures.
Don't feel like local anesthesia works for you when getting dental work done.
Are dealing with other health issues like neck or back pain that may be uncomfortable to sit with.
What Types of Sedation Are Available?
Nitrous Oxide
You may have heard of this form of sedation as "laughing gas." Many patients that have mild dental anxiety rely on this type of sedation because it's able to be safely monitored by our dentists, light, and effective. You can arrive at your appointment alone and leave with out an escort as soon as the effects of the nitrous oxide wears off.
Oral Conscious Sedation
Oral conscious sedation is a bit stronger than laughing gas. This level of sedation is for patients with a more intense fear of dental treatments or patients that need multiple dental treatments to be completed in a single appointment. You'll simply drink your sedative and drift off into a drowsy cloud of comfort.
In most cases, our patients tend to drift off into a peaceful nap while they receive their dental care, but there are still some that stay completely conscious and groggy throughout the appointment. Because it does take time for the sedative to wear off, you'll need an escort to take you home after your visit.
IV Sedation
Not too many dentists offer IV sedation, but it's perfect for patients that have extensive dental work, a critical procedure, or extreme dental fear. Your dentist will administer your sedative through an IV and you'll be completely asleep throughout your treatment, allowing your dentist to closely control your level of sedation and make sure that you're comfortable. After your appointment, you'll need a ride home and a friend or family member to care for you for a few hours at home.
All in all, you'll need a practice that supports you through and through very appointment so that your smile can stay healthy—especially if you're fearful of the dentist.
---
About Our Office
Here at Dental Group West, we know that dental anxiety and fear of discomfort can keep many patients from receiving necessary care. If you choose to visit us, we will do everything in our power to create a comfortable, positive dental experience. Learn more about how your dentist in Toledo can help you by giving us a call.