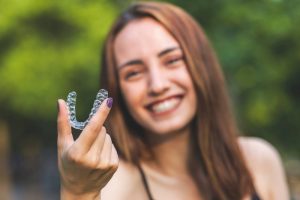 Summer is full of enjoyable activities. Walks on the beach, family vacations, and barbeques with friends are some of the most memorable moments. But did you know that you can also begin the process of aligning your teeth with Invisalign and it won't keep you from your summer fun at all? As a matter of fact, the sunny season is the perfect time to start the journey toward a straighter smile! Here are three reasons why.
#1: Get a Jump Start on an Aligned Smile
In comparison to traditional braces, Invisalign straightens your teeth more quickly. While the metal wires and brackets can take up to three years for the final results, the clear aligners will align your smile in only 12-18 months. Not only will you not have to deal with a metal mouth, but you can also look forward to the pearly whites you've always wanted in a shorter amount of time. If you start your treatment this summer, you can count on returning to work or school with visibly changed teeth and having your new smile at the beginning of next summer!
Reason #2: Still Enjoy Your Favorite Summer Foods
Other orthodontic options will require you to change your diet in some way. The usual dietary restrictions will be to avoid any sticky, crunchy, or chewy foods. However, with Invisalign, there will be no limitations at all! Since you will remove your aligners every time you eat, you can still enjoy all your favorite foods. You can still indulge in summer treats such as corn on the cob, taffy, and chocolate-covered pretzels. As long as you brush your teeth after you eat and before you place your aligners in to ensure your oral health remains in good condition, you can savor every bite!
Reason #3: Benefit from Your Flexible Schedule
The summertime usually gives you a bit more time in your everyday schedule. This means you will have the time to visit your dentist, get a treatment plan, and begin the Invisalign process. You can easily fit in all the necessary appointments. Additionally, you will have the time to get used to your aligners and learn how to take care of them. You will need to wear them for at least 22 hours a day so you can get adjusted to your new schedule of removing them and cleaning them (and your pearly whites) after you eat.
There are so many advantages to beginning Invisalign treatment during the summer. By visiting your dentist, you can begin the journey to the aligned, beautiful smile you've always wanted!
About the Author
Dr. Richard Thomas and his team at Dental Group West are eager to help you achieve the smile of your dreams! He received his Doctor of Dental Surgery from Case Western Reserve University and is an active member of several professional organizations. With the use of advanced dental technology and personalized plans, he offers a range of services, including Invisalign. To schedule an appointment, contact him through his website or call (419) 539-2168.i