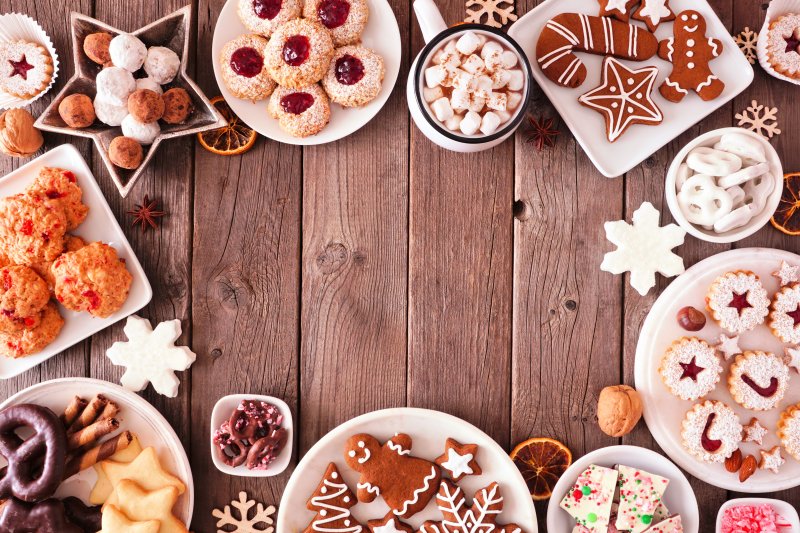 With the holiday season right around the corner, that means the number of sugary, fatty foods will be through the roof. Though we know these foods are bad for our overall health, they can also be bad news for your teeth. Here are five holiday foods and drinks that should be avoided or eaten in moderation to avoid damaging your teeth.
#1: Candy
Candy canes, butterscotch, and other hard holiday candies are basically pure sugar. They also contain a modified starch called high fructose corn syrup, which can pull minerals from the teeth. These two things combined give harmful bacteria and acids more opportunities to eat away at your tooth enamel, which can lead to decay. Consider eating softer, sugar-free candies like soft peppermint patties or peanut butter cups.
#2: Dried Fruit
Dried fruit easily sticks to the surfaces of your teeth and provides nourishment for oral bacteria that causes cavities. Substitute it for fresh fruit whenever possible.
#3: Stuffing
Though it's little more than bread and herbs, stuffing is surprisingly bad for your teeth. It's made primarily of carbohydrates, which get converted into sugar during digestion and provide food for oral bacteria. Starchy foods also promote the growth of the bacteria that feeds on the sugars that starches are broken down into. If possible, switch it out with tooth-healthy roasted veggies like carrots and broccoli.
#4: Baked Goods
Since baked goods are both full of sugar and super carb-heavy, they are bad news for teeth. If you decide to indulge in these sweet treats, eat them in moderation and drink water or brush your teeth after to get rid of leftover sugar.
#5: Eggnog
Eggnog has a high sugar content, which can wreak havoc on your teeth. Alcohol isn't great for your teeth either, so practicing moderation when consuming eggnog or other alcoholic drinks is a key part of maintaining good oral health. If you're want to enjoy an alcoholic beverage without having to worry about what it's doing to your teeth, something sugar-free like a gin and tonic might be the better option.
By avoiding or consuming the above foods and drinks in moderation, you can avoid a dental emergency this holiday season. Consider visiting your dentist before the holidays to ensure your oral health is in good condition so you can enjoy chowing down with friends and family to the fullest!
About the Practice
Dr. Weisenburger, Dr. Thomas, Dr. Poole, and their talented Toledo team at Dental Group West offer a range of dental care services to give the whole family brighter, more beautiful smiles. They can help you prevent or treat oral health issues and give helpful tips on how to keep your teeth healthy this holiday season. From new patients to returning ones, they take pride in what they do and aim to make your visits as pleasant as possible. To schedule an appointment or to learn more about holiday foods you should eat in moderation, call (419) 539-2168 or visit their website.