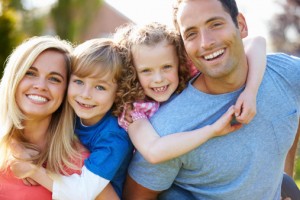 Let's hear it for summer. The pace just seems to slow down, so there's time to catch up on all of those things you meant to do during the rest of the year. If one of those should happen to be a dental appointment, then you can count on Dental Group West in Toledo, OH, to care for all of your family's dentistry needs. From the youngest to the eldest, from dental exams and cleanings to custom nightguards and periodontal therapy, the dentists and their capable staff at Dental Group West are ready to provide you and your loved ones with professional and compassionate care.
Beyond the brushing and flossing that you and your family perform twice each day at home, Dr. Thomas, Dr. Poole and Dr. Weisenburger would like to see all of you in the office for a dental checkup twice each year. At these regular checkups, we'll clean your teeth and remove any plaque buildup, which can be the precursor to gum disease. We'll also assess the health of your gums and other soft tissue; visually examine your teeth for signs of decay; conduct an oral cancer screening and when necessary, we'll take x-rays to find any hidden spots of tooth decay or anything else of concern that is not visible to the eye. Of course, if we find a problem then we will recommend a course of treatment. As your family dentist, our first goal is to help you avoid problems completely. But if one is present, then we'd like to treat sooner rather than later in order to prevent bigger problems and bigger expenses.
The Family Dentist Holland, OH, Visits, Too
Beyond your bi-annual checkups, Dental Group West provides a number of dentistry services that are important to your family's oral health and well-being. For example, for the sports enthusiast in your family we can prescribe a custom athletic mouthguard. Reliable studies have shown that athletic mouthguards not only protect teeth, lips, gums and tongue during play, they may also decrease the severity of a concussion should one occur. Likewise, if anyone in your family grinds their teeth at night, a custom nightguard creates a comfortable barrier between the top and bottom teeth, thereby putting a stop to that annoying sound.
Call Our Office Today
If you're looking for the family dentist Perrysburg, OH, as well as Bowling Green, Sylvania and Oregon turn to for complete dental care, then come to Dental Group West in Toledo. We look forward to serving you and your family.