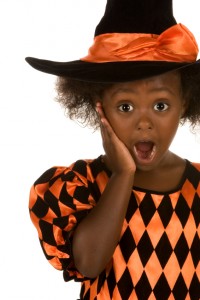 Your child is busy learning something new every day — and as you well know, their quest for understanding is filled with mistakes and more than a few bumps in the road. Their dental hygiene is no different — it takes years to learn how to properly brush, floss and care for teeth in general. And once they've mastered the techniques, adolescence presents its own obstacles to healthy teeth: an erratic diet, and priorities that usually don't include proper brushing and flossing. Your family dentist in Toledo knows it's a long journey developing good oral health habits that stick for life.
Maintaining a smile that's protected against decay can be especially difficult at this time of the year, when children are surrounded by Halloween candy all month long. It's important than ever to help your child keep up their oral hygiene habits right now, so read on for tips for a healthy Halloween — your child will thank you for it later.

Good Children's Oral Health Starts With You
Excellent oral health care in childhood is vital for a lifetime of healthy teeth. Habits developed as a child stick for life, and tooth decay in very young children can cause more serious orthodontic and overall health problems later on. Your child looks to you as an example for everything — so make sure you're a good role model for brushing, flossing and visiting the dentist, too.
Keep the following in mind to help keep your child's mouth cavity-free year-round:
Help them establish good brushing and flossing techniques through careful monitoring. Remember that everyone should brush for two minutes, twice a day, and floss once a day. Your child will be able to brush her teeth herself beginning at age 6, but you should still closely monitor his or her technique until you're sure they're doing an excellent job.
Keep up with your family's regular dental checkups every six months.
Encourage your child to rinse his or her mouth after eating sugary candy or drinking sodas. This is a good habit to establish early — it seems small, but goes a long way in preventing bacteria buildup.
Preventing Tooth Decay at Halloween
It's no surprise that this is the most dangerous time of year for a child's mouth. It's not only on October 31, either; your child will likely be surrounded by candy this whole month. Help to protect those precious teeth — they're counting on you.
Make it a rule that no candy is allowed in the bedroom. Instead, keep it in the kitchen to prevent your child from sleeping with candy in the mouth, or eating it all evening long.
On Halloween night, start out with a full, balanced meal. Your child will be less tempted to eat candy throughout the trick-or-treating.
Remember to encourage your child to rinse out his or her mouth with water after eating candy — eventually it'll become a healthy, clean feeling they crave.
Schedule a Halloween Cleaning Today
Make sure your child's teeth are as healthy as possible this Halloween season — request an appointment for a Halloween cleaning with Dental Group West. We're based in Toledo, OH but we proudly welcome families from Sylvania, Holland, Lambertville, Hopewell Heights, Maumee and beyond.