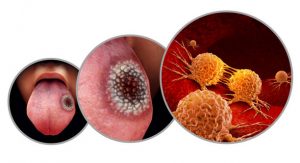 Tooth decay and gum disease aren't the only issues that can be hiding in your mouth. Over 54,000 adults in the U.S. will be diagnosed with oral cancer in 2023. April is dedicated to Oral Cancer Awareness Month to increase public education about the benefits of regular screenings. Nearly 12,000 people will die from oral or oropharyngeal cancer this year. You can invest the power of early detection by maintaining your semi-annual cleaning and checkup.
What is Oral Cancer?
Oral cancer is classified as those affecting the mouth, throat, neck, and head. Contrary to common belief, you don't have to be a smoker to be at risk. Although tobacco increases the odds, various risk factors also include genetics, a history of HPV, or drinking a lot of alcohol. However, it can affect anyone, even those without risk factors.
Oral cancer is easy to treat, but it's often not found until it has spread to other areas of the body. This contributes to the high mortality rate. The 5-year survival rate is only 68.5%. It's important to monitor your mouth and lips for any changes, like:
Lip or mouth sores that won't heal.
Reddish or white patches in the mouth.
Loose or shifting teeth.
A lump or growth inside of your mouth.
Mouth or ear pain.
Difficulty or painful swallowing.
Besides checking your mouth at home regularly, schedule an oral cancer screening at least once a year.
Importance of Regular Oral Cancer Screenings
Healthcare professionals estimate that 80% of new oral cancer cases can be found early at regular dental appointments. There are no guidelines for the frequency of having a screening, but it's recommended to have one during your cleanings and checkups. Many dentists offer screenings as part of their regular preventive services.
Your dentist will perform a visual examination to look for anything concerning. If they find something suspicious, they may order a biopsy to have it tested in the laboratory. Depending on the results, they'll determine if you require additional treatment. If you develop any of the signs of oral cancer, don't wait until your next routine visit to see your dentist. Schedule an appointment with your dentist or a healthcare professional right away.
Don't take the risk of finding oral cancer until it's too late. Early detection is crucial for a promising outcome.
About Dr. Tracy Poole
Dr. Poole earned her dental degree at Ohio State University and has regularly continued her education in advanced services, like oral surgery, pediatric dentistry, and neuromuscular dentistry. She is a proud member of the American Dental Association and several other professional organizations. Contact our office at (419) 469-1485 to schedule an appointment.