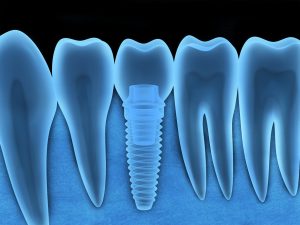 There's nothing you love more than spending time with your grandchildren – they always make you laugh and smile. But when you do, you feel embarrassed about a blank spot in your smile. You've been missing a tooth for way too long but, you don't want dentures, and you're not sure where to start with dental implants in Toledo. You want to know exactly what they are, as well as what the process for them is like. Who can you trust to give you the professional perspective you need?  The team at Dental Group West shares their expertise in this post – they'll teach you all about dental implants here.
What Are Dental Implants?
As your dentist in Toledo, Dr. Richard Thomas, Dr. Tracy Poole, and Dr. Robert Weisenburger explain that dental implants consist of three pieces:
Implant – The implant itself is a biocompatible titanium post that will be surgically placed in your jaw. This will become the secure foundation for the rest of your replacement tooth. You'll have oral surgery as the first step in the process, and you'll need about 3-6 months for the post to fuse with your jaw in a process called osseointegration. At that point, the other pieces can be added.
Abutment – This is the connecting piece between the implant and- the tooth-shaped "cap." Once the implant is strong enough, the abutment will then be affixed to the post.
Crown – This is the part of the replacement that looks like the tooth. The long-lasting, natural-looking porcelain dental crown will be secured to the abutment after that part is added, restoring your smile to its former glory.
Why Are Dental Implants Better Than Dentures Or Bridges?
Our team knows that dental implants are the gold standard for replacing teeth for a reason – they're superior to dentures, partials, and fixed dental bridges for many reasons:
Jaw Strength – Unlike bridges and dentures that cause your jawbone to recede from the pressure that occurs every time you chew, dental implants actually increase bone density and keep your jaw strong.
Better Speech & Chewing – Your teeth not only make your smile look great, they're a vital part of speaking and digesting food. Since the implants will stay in place and won't wiggle, you'll be able to eat all your favorite foods, and you'll never have to worry about mumbling or being misunderstood when you talk.
Protect Natural Teeth – When you lose teeth, the ones that remain shift to fill in the extra space, which causes alignment issues and puts them at risk for breaks and chips. Your dental implant will keep the rest of your teeth safe by making sure they stay in proper position.
Appearance – Although dentures, partials, and bridges work just fine, implants look better because they blend right in with your natural teeth. The porcelain will match your natural grin perfectly.
Longevity & Cost – While other replacement options may be less expensive up front, you'll actually save money with a dental implant over the course of a lifetime. Dental implants can last indefinitely with proper treatment, as opposed to dentures and bridges that last 15 years, max, and will need to be replaced.
Stay-Put Smile – Who wants to put their smile in a cup at night? You won't have to worry about the embarrassment of removeable dentures in your daily life, even when you kiss your sweetheart. And, you can say goodbye to messy dental adhesives, too.
Now that you know what dental implants are, what the process is for them, and how much better they are than other replacement options, schedule your appointment with Dental Group West today and make your smile healthy and bright again!