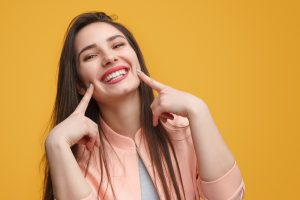 If you avoid showing your teeth because you're embarrassed by the way they look, you might be a candidate for cosmetic dentistry. You know your dentist can give you the attractive smile you desire, but you might believe their services aren't in your budget. Did you know cosmetic dentistry isn't just for celebrities? You have more options than ever to correct aesthetic issues, so people from all walks of life can benefit from it. Here are 4 procedures that can give you a red-carpet smile without breaking the bank.
1. Porcelain Veneers
It's true veneers are more expensive than other treatments, but they can also be a cost-effective solution. A veneer is bonded to the front surface of a tooth to instantly hide a variety of imperfections, like discoloration, chips, and gaps. Their versatility allows them to fix several imperfections at once, which can eliminate the need for multiple procedures. You'll save time and money by investing in a treatment that can last for a decade or longer.
2. Invisalign
Many adults believe their only option for a straight smile involves brackets and wires because clear aligners are too expensive. This couldn't be further from the truth. You don't have to worry about the appearance or restrictions of metal braces when choosing Invisalign. Contrary to what you might have heard, Invisalign is covered under many dental insurance plans. You can use your coverage to offset the amount you need to pay out-of-pocket. Your dentist will offer several payment options for any remaining balance, like third-party financing.
3. Cosmetic Dental Bonding
Dental bonding is a simple, minimally invasive treatment to correct minor aesthetic blemishes, like discoloration, cracks, or exposed tooth roots. A composite resin material is customized to match the color of your teeth to blend in with your enamel. It can be used for a single tooth or several teeth. It's a popular solution for patients of all ages because it's affordable and durable.
4. Teeth Whitening
If you've been trying to get a brighter smile, you've likely purchased several OTC whitening products. Unfortunately, they didn't give you the results you want. You can stop throwing money away on ineffective store-bought kits. Instead, you can enjoy lasting results with a professional whitening treatment. Your dentist can get your teeth as much as 8 shades brighter. Your teeth can stay white for multiple months to years with the proper care to save money down the road.
Invest in a Confident Smile
A movie star smile is not out of reach. Your dentist will create a personalized strategy to revamp your teeth without draining your bank account. You'll achieve the stunning smile you deserve without dealing with a large bill.
About Dr. Richard Thomas
Dr. Thomas earned his dental degree from Case Western Reserve University before continuing his training at Ohio State University and the Las Vegas Institute. When he isn't in the office, he teaches at the University of Toledo Medical Center. If you're interested in cosmetic dentistry, contact our office today to schedule your consultation with a dentist you can trust.