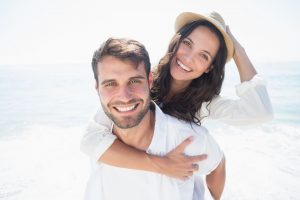 You're almost finished planning the perfect summer vacation. The hotel room is booked, you've gotten time off from work, and you bought a brand-new swimsuit – but you can't help thinking you forgot something. It isn't until you look in the mirror that you realize your teeth are nowhere near ready for summer. The last thing you want is for the stains, chips, and gaps in your smile to be forever preserved in photos! Fortunately, your cosmetic dentist can get your smile ready for this summer and beyond. Here are three easy cosmetic dental treatments that will make you proud to show off those pearly whites!
Teeth Whitening
Have years of drinking too much coffee made your teeth yellow? If so, you might benefit from professional teeth whitening. While over-the-counter whiteners often take weeks or months to produce barely noticeable results, teeth whitening from a cosmetic dentist is truly transformative as well as convenient. After taking impressions of your teeth, your dentist gives you custom trays that fit perfectly. They'll also give you a professional-grade bleaching gel that is much more potent than any product you'll find at the drugstore. All you have to do is fill the trays with the gel and wear them as instructed by your dentist – usually about 30 minutes a day. Most people see dramatic results after just two weeks!
Veneers
Maybe your teeth are more than just stained. One way to also fix cracks, chips, small gaps, and even slightly crooked teeth is with veneers. These thin, porcelain coverings are actually how many big-name celebrities achieve their famously attractive smiles. Veneers essentially act as small "masks" for your teeth, instantly concealing any aesthetic flaws.
The veneers process involves removing a small amount of enamel, capturing impressions of your teeth, and receiving temporary veneers while the impressions are sent to a dental lab. After a few weeks, you'll return to your dentist's office to have your personalized veneers placed and your smile instantly transformed.
Cosmetic Dental Bonding
If veneers sound like a bit "too much" for the minor imperfections in your teeth, then you might consider cosmetic dental bonding. This treatment is a more affordable and less invasive way of correcting small gaps, chips, and stains. Your cosmetic dentist can sculpt composite resin – the same material used in fillings – to your tooth to help it attain the perfect size, shape, and color.
No matter what your plans are this summer, it never hurts to have a smile you'd be proud to display on camera. Ask your cosmetic dentist about how they can keep you smiling all summer long!
About the Author
Dr. Richard Thomas is a cosmetic dentist in Toledo, OH who achieved his Doctor of Dental Surgery degree from Case Western Reserve University. At Dental Group West, he provides several cosmetic dental treatments, including the ones described in this post and more. To learn more about how cosmetic dentistry can give you a perfect smile this summer, call Dr. Thomas' dental office at (419)-539-2168 or visit his website.