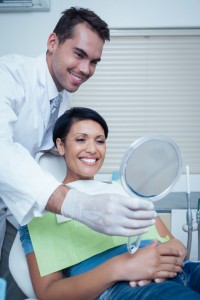 Dental Group West has made it our mission to provide you with the comfort, trust, and confidence you need to maintain your oral health. As a reputable dentist in Toledo, we provide complete comprehensive dental services through our skilled and qualified dentists and team. We work hard to go the extra mile to provide you with the comfort and safety you need to feel at ease.
When visiting your office, you'll quickly find we raise the bar when it comes to exceptional dental care. Not only will you find a caring and friendly staff in a welcoming environment, but the latest innovations in dentistry to give you the best care possible. We even think outside of the box to offer other comfort features that you just won't find elsewhere.

Digital X-rays
For your health, we now use digital x-rays, which not only provide us with a clearer image of your oral health, but use less radiation when compared to traditional x-rays. In addition to less radiation, digital images are quicker for less wait time. Not to mention, they produce more in-depth images to allow us to better understand your oral health to create more precise treatment plans.
Sedation Dentistry
We make it our mission to provide a comfortable and relaxing visit when at our office, which is why we offer sedation dentistry. As a sedation dentist in Toledo, we are able to provide care for those who have mild to severe dental anxieties. We will help you feel relaxed while providing the care you need by causing as little pain and discomfort as possible.
In-Room Amenities
With your comfort one of our main goals, we go the extra mile to offer in-room amenities that aren't found in many other offices. As a family dentist in Toledo, we know how difficult it can be to keep a child occupied while waiting or during procedures. This is why we offer TVs in every operatory, to help your child feel comfortable while allowing you to pastime more quickly when waiting. Sit back and relax in our comfortable chairs while you watch your favorite show.
Locally Sourced Spring Water
In light of the recent city water contamination issues in Flint, we've taken the extra precaution to offer you peace of mind during your care by using locally sourced spring water. We choose to use the longstanding, trustworthy company Collingwood Water Company in our offices. Since 1875, their well at Prescott Streets and Collingwood Boulevard has provided fresh, clean, safe water to local residents and businesses. When you visit our office, all water that's used in all of our procedures and hygienist gadgets is from the spring, not the city.
When needing a dentist in Toledo, choose a dentist who takes every possible measure to provide comprehensive care while ensuring you're comfortable and relaxed. We'll give you the confidence you need to know your oral health is in good hands. Just sit back and relax as we cater to your needs while delivering superior dental care. Call us today to schedule an appointment.