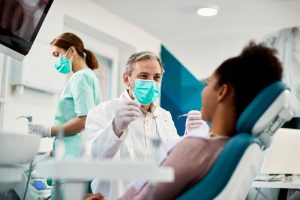 National Dentist's Day is on the doorstep, and it's an occasion worthy of recognition. After all, these diligent and patient professionals work hard for the smiles of you and your loved ones. They are skilled in a wide range of treatments and can provide valuable instruction on how you protect your oral health at home. Keep reading to learn more about this national day, what your dentist strives to do for you, and how you can give them a tip of the cap on March 6 for a job well done.
What Is National Dentist's Day?
While some people might think dentistry is a relatively new field of medicine, the truth is that it goes back several thousand years. In fact, the very first dentist who was ever recorded went by the name of Hesy-Ra. He is believed to have lived and practiced back in Egypt around the year 2600 BCE. The man who is known to be the "Father of Modern Dentistry," Pierre Fauchard, wrote the first complete scientific description of dentistry – the French title translates to "The Surgeon Dentist" – in 1728.
Why Should You Celebrate the Holiday?
High-quality dentistry is challenging, so National Dentist's Day is a special occasion dedicated to the medical professionals committed to helping patients obtain healthy smiles. This is the perfect time to think about your dentist and their staff. After all, dental care isn't something that should be neglected for the sake of your oral and general health.
When it comes to dental issues that cause excruciating pain, who is there to help you get relief and restore your smile to good standing? There isn't anyone else you should be turning to rather than your dentist. They are also there to ensure you don't develop future dental health issues and to assist you in achieving the smile of your dreams. Ultimately, you rely on your dentist in Toledo, so why shouldn't you appreciate their dedication and hard work?
How Can You Celebrate?
One of the main ways you can celebrate is by taking a moment out of your day to ensure your smile is clean. You don't want to give your dental team extra hard work during your next visit because you aren't following a consistent oral hygiene routine. Healthy teeth and gums help your day-to-day life and make life easier for your dentist and hygienists!
It's important to acknowledge the people who help you along the journey that is life. When your dentist is one of those key figures you can count on, your oral and general health are both going to reap the benefits.
About the Practice
At Dental Group West, our highly trained dentists welcome you to a comfortable office environment. If you have a dental insurance plan, we would be more than happy to file claims on your behalf, maximize your benefits, and help you understand the cost every step of the way. We also accept financing through Wells Fargo, which allows you to break up even the most extensive treatments into manageable chunks. When you appreciate the quality work your dentist does for your smile, that's what National Dentist's Day is all about. You can schedule a dental cleaning and exam on our website or by calling (419) 539-2168.