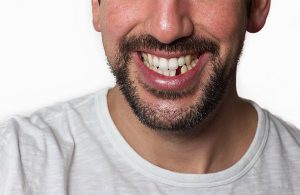 Everyone fears losing a front tooth because no one wants an empty space to be the focal point of their smile. Unfortunately, accidents can happen. Whether you've lost an incisor from an injury, disease, or infection, it's more than an aesthetic problem. Tooth loss can affect your oral health, quality of life, and general wellness. You have more options than ever before to fill the gap, like a dental implant. You can enjoy a nearly perfect replica of your real tooth using the most reliable solution for missing teeth.
How a Dental Implant Works
A dental implant differs from traditional bridges and partials because it replaces both the root and the crown. A titanium post is surgically placed into your jaw to serve as a new root. Your bone will fuse to it through a process called osseointegration. It can potentially remain in place forever to provide a stable foundation for your restoration, which is attached using an abutment. Your new tooth will match the color, size, and shape of your real teeth. No one will know your dental implant isn't a real tooth.
Candidate for Dental Implants
Most people with good oral and general health are candidates for dental implants. Your dentist will examine your mouth and review a CT scan to ensure they are right for you. They'll also learn more about your health history. It's not uncommon to require a little prep work, like gum disease therapy or bone grafting. Your dentist will create a personalized treatment plan to complete your smile.
Benefits of Dental Implants
A dental implant offers exceptional benefits that aren't possible using any other treatment, including:
Looks and Feels Natural: Your implant post will be hidden below your gums to support an all-ceramic crown. It will blend in with your smile and restore 70% of your biting force.
Preserve Your Jawbone: A dental implant stops bone loss caused by missing teeth. The post will stimulate your jaw to encourage new bone growth to keep it strong and healthy. This will preserve your facial structure and dental health.
Improves Your Oral Health: A healthy jawbone prevents common issues caused by missing teeth, like cavities, gum disease, and additional tooth loss. You'll benefit from reduced oral health expenses by preserving your natural smile.
High Success Rate: Dental implants have over a 95% success rate and are proven to last for 30 years or more with the correct care, like brushing and flossing.
Cost-Effective Option: Dental implants may cost more than traditional treatments initially, but they are the most affordable overall. A dental implant can last for decades, so you won't have to budget for replacements.
It's never too late to invest in a beautiful smile. You can't put a price on the benefits you'll enjoy by choosing a dental implant to replace your front tooth.
About Dr. Robert Weisenburger
Dr. Weisenburger earned his dental degree from Ohio State University and has regularly continued his training to provide many specialty services, like dental implants, sedation dentistry, and periodontics. He is a member of several professional organizations, including the American Dental Association. Call (419) 469-1485 or contact us online to schedule an appointment.