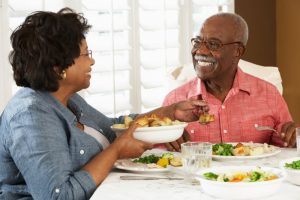 Are you ready for the holiday season? With the upcoming festivities, gatherings, and good times, there is plenty to smile about this time of year. This is especially true if you've replaced your missing teeth with dental implants! There's a lot to be thankful for if you have this modern tooth loss solution. Read on as we go over five of the top reasons to appreciate your dental implants in Toledo this Thanksgiving!
You Can Smile Comfortably & Confidently
Traditional dentures are notorious for slipping and popping out of place while you talk and eat, and dental bridges can lead to uncomfortable tooth sensitivity. On the other hand, thanks to their firm foundation in your jawbone, dental implants give you a strong, self-supporting tooth replacement that allows you to smile comfortably and confidently.
You Have the Freedom to Eat Your Favorite Foods
Are you excited to eat all your favorite holiday foods this year? With dental implants, you have the biting strength to eat anything you like! Dentures only restore about 30% of your natural chewing force, but dental implants offer 75% or more. This means you can easily eat turkey legs, corn on the cob, pecan pie, and anything else on your plate this holiday season!
You Can Keep Oral Health Issues At Bay Easily
No one wants their holidays interrupted by a dental emergency or oral health problem. Thankfully, since dental implants promote optimal oral health, you are at a lower risk of developing mouth infections, gum disease, and tooth decay. Plus, you won't have to worry about stopping everything to see your emergency dentist for a lost bridge or broken denture!
You Can Maintain a Strong & Healthy Jawbone
You want to look your best for this year's family photos as well as all the holiday photos for years to come. The jawbone naturally begins to deteriorate with tooth loss, but dental implants stimulate the bone tissue and prevent this process. You'll keep a strong jawbone and your youthful appearance for decades to come.
You Can Count on Your New Smile For Decades
Dental implants are stronger, more durable, and last longer than any other form of tooth replacement. While dental bridges and dentures need to be replaced every five to seven years, you can easily count on your dental implants to last a lifetime with the right care!
With dental implants, there are plenty of reasons to be thankful. If you're interested in getting this state-of-the-art tooth loss solution, talk to your dentist today to see if they're right for you!
About the Practice
The talented team of Dental Group West is committed to helping the families of Toledo achieve happy, healthy smiles and maintain them for life. Dr. Richard Thomas, Dr. Tracy Poole, and Dr. Robert Weisenburger have years of combined experience in a wide array of services that support optimal oral health through every stage of life. Should you have questions about the benefits of dental implants or are interested in getting them yourself, they would be happy to help. You can reach them online or at (419) 539-2168.