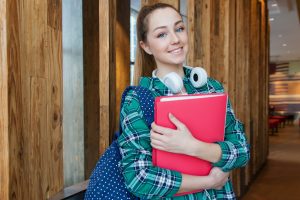 The new school year is here, which means you have all the supplies and items you need to be successful. While you study hard to make good grades, don't forget to give your teeth and gums a little attention. You don't want to hear bad news next time you see your dentist. Here are 5 tips to help you ace your next dental exam.
1. Create a Dental Hygiene Kit
Life can get pretty busy during the school year, which means it's easy to forget to brush your teeth. Not to mention, you might like to snack while you study or turn to convenience foods when you're in a hurry. You can prevent cavities and bad breath with a dental hygiene kit to take with you to school. Include a travel-sized toothbrush and toothpaste to make it easy to keep your teeth clean while you're on the go.
2. Step-Up Your Brushing Routine
The American Dental Association recommends brushing your teeth at least twice daily, if not after every meal. It's best to use a soft-bristled toothbrush and fluoride toothpaste to keep your teeth clean. Brush all surfaces of your teeth for 2 minutes to remove food particles and plaque.
3. Don't Forget to Floss
Your toothbrush is the most important tool you have to keep your mouth healthy, but it can't reach everywhere. Brushing alone can leave up to 40% of your teeth surfaces unclean. Daily flossing is the only way to remove the buildup your toothbrush can't reach. You'll protect your smile against gum disease to support a healthy mouth and body.
4. Don't Take Sweets for Lunch
As you pack your lunch for the day, leave out any sugary or starchy foods, including cookies and potato chips. Sugars and starches feed cavity-causing bacteria that can erode your enamel and cause decay. If you can't resist your sweet tooth, brush your teeth after you finish.
5. Drink More Water
Water keeps your body functioning at its best by keeping you hydrated. However, your dental health also relies on hydration. It keeps your mouth moist to combat harmful oral bacteria. Every sip you take also rinses your mouth to wash away food debris. Healthcare professionals recommend drinking at least eight 8oz glasses of water every day.
Don't let a toothache or dental emergency cost you a day of learning. You can ensure your teeth and gums stay healthy throughout the year with the right care at home and visiting your dentist every 6 months for a cleaning and checkup.
About Dr. Tracy Poole
Dr. Poole earned her dental degree from Ohio State University and has regularly continued her training in various specialties, including pediatric dentistry, conscious sedation, and neuromuscular dentistry. She strives to help each patient achieve their best smile using the latest innovations in dentistry. If you need a cleaning and checkup, call (419) 469-1485 to schedule an appointment.