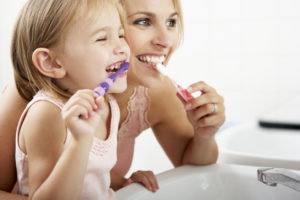 Seeing your dentist in Toledo for regular cleanings and checkups is a good idea. But exercising good self-care at home is just as important. This includes not only regular brushing and flossing but taking care of your toothbrush as well.
The ABCs of Toothbrush Care
Here's how to keep your toothbrush sanitary and doing its job:
Store it with the head facing up when not in use.
Make sure it never touches other toothbrushes or contaminated surfaces such as bathroom countertops.
Keep your household's toothbrushes separate from each other. This will prevent the possibility of cross-contamination.
Never share your toothbrush with anyone else or allow someone else to use yours.
Rinse your toothbrush with warm tap water after each use. Allow it to air dry before using again.
Replace your toothbrush every 3 to 4 months, more often if you have an aggressive brushing style.
Answers to Specific Questions
Q: Should I use a purpose-made toothbrush case?
A: Surprisingly, most dentists say not to bother with these products. These cases can prevent the toothbrush from drying thoroughly, promoting bacterial growth on the bristles. One possible exception to this rule applies to travelers; see below for more information.
Q: Is there really a difference from one toothbrush brand or model to the next?
A: Yes. For example, toothbrushes with the ADA seal of approval have been reviewed by dental professionals for safety and effectiveness. Also, certain features, such as angled heads, can enable some users to brush more effectively.
Q: Is it okay to keep my toothbrush in the medicine chest?
A: In most cases, the answer is yes, so long as the space around the brush is sufficient to allow circulation.
Toothbrush Tips for Travelers
With the holiday season coming up, millions of Americans will be packing their bags to visit friends and family. Maybe you're among them. But how do you keep your toothbrush clean and safe during the trip? Here are some suggestions:
Only use water you trust to clean your toothbrush. This tip applies primarily to people will be traveling outside the country to areas with questionable water sources. The rule of thumb is this: if it's safe to drink, then it's safe to clean your toothbrush.
Consider purchasing a toothbrush for the trip. It's best to keep the new brush in the original packaging until you need it. If you must use the same brush multiple times, then you can find plastic caps on the market with ventilation holes for air circulation. Consider using one of these.
Most people are unable to brush as often as they would like while they're traveling. One way to help keep your teeth and gums in good shape is to use plenty of sugar-free gum while you're on the road.
Never leave your toothbrush on a hotel bathroom counter. Protect it with a ventilated cap and take it with you or pack it away in your luggage until you return.
If your toothbrush has seen better days, then replace it shortly before your trip. The condition of the bristles really does affect your ability to keep your teeth clean.
Following these toothbrush tips can help to keep your teeth healthy in between visits to your Toledo dentist. We wish you and yours lots of happy smiles, both now and down the road.
About the Author
Dr. Tracy Poole earned her DDS degree from Ohio State University. She's specially trained in dental sedation, pediatric procedures and cosmetic dentistry. You can reach her office online or by calling (419) 539-2168.