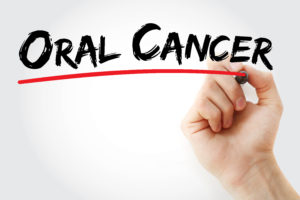 Dentists all around the country have joined forces to emphasize the importance of preventive care visits in April, as this is National Oral Cancer Awareness Month. This year, over 40,000 people will be diagnosed with this disease. Thus, one of the goals of professionals is to reverse the trend of the rising number of new cases. Your dentist in Toledo is eager to do his part, which is why he encourages you to maintain preventive care visits to get a full oral cancer screening. Learn more about this disease and how you can fight it as you read on.
What is Oral Cancer?
Cancer, in general, is the uncontrollable growth of mutated cells in the body, and if not treated, can be fatal. When in your oral cavity, it manifests as follows:
Mouth – In the mouth, this form of cancer can leave traces in the lips, cheek lining, teeth, gums, the front two-thirds of the tongue and the roof of the mouth.
Throat – When it enters the throat, it may be found in the tonsils and at the base of the tongue (considered as part of the throat).
Wherever the disease arises, it will give you warning signs.
Symptoms of Oral Cancer
Here are some of the signs of oral cancer that may arise:
A sore or irritated throat that doesn't seem to get any better
Red or white patches on the soft tissues in the mouth
Pain, tenderness or numbness in the mouth or lips
A lump, thickening, rough spot, crust or small eroded area
Difficulty chewing, swallowing, speaking or moving your tongue or jaw
A change in the way your teeth fit together when you close your mouth
Now that you know what to look for, let's discuss the types of activities that may encourage this disease to manifest.
What Contributes to Oral Cancer?
It's quite encouraging to know what activities can lead to oral cancer so that you can steer clear of them. They are as follows:
It's best to abstain from smoking or chewing tobacco products, as they have been found to be directly linked to oral cancer.
Allowing bacteria to accumulate on your teeth and below the gum line can contribute to gum disease, which has been found to play a role in the development of oral cancer. Thus, practicing excellent oral hygiene is of paramount importance.
Missing semi-annual dental appointments leaves you more susceptible to developing oral cancer, because you'll be losing out on the benefits of receiving a thorough cleaning. In addition, you'll miss out on the full oral cancer screenings that happen at these visits, where your dentist will be able to identify any troublesome signs.
The Power of Early Detection
This year, more than 10,000 people will succumb to oral cancer. One way that your dentist is combatting that number is through early detection. Thus, he encourages you to maximize the energy abound in the month of April by contacting him to schedule an appointment for an oral cancer screening in Toledo today.
About the Author
A graduate of Case Western Reserve University, where he earned his D.D.S. degree, Dr. Richard Thomas is both a care provider and educator. He takes a detailed and methodical approach to every procedure he performs, ensuring that his patients get the absolute best care at Dental Group West. Dr. Thomas can be reached for more information through his website.