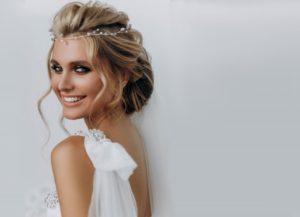 The summer months are here, and you want to look your best when you pose for pictures, take a family trip, attend a special occasion or participate in any other memorable moment. For that to happen, you need to have a smile that you can feel proud about. Your dentist in Toledo says now is the time to take action, but first, learn about three highly effective cosmetic dental procedures for you to choose from!
A New Look with Cosmetic Dental Bonding
One way to have your smile enhanced in just one visit is with cosmetic dental bonding. This procedure is excellent for addressing discolored, chipped, slightly gapped or misshaped teeth. It starts with your cosmetic dentist applying resin material directly to the front-facing teeth. Then, the same is sculpted to fit perfectly into your smile line.
After the new application is hardened using a special light, you'll have a smile that dazzles, and you'll leave your cosmetic dentist looking and feeling like a newly rejuvenated person!
Porcelain Veneers – Small Fixtures, Big Results
Another option for beautifying your smile is with the addition of porcelain veneers. Made from high-quality ceramics, the thin shells fit directly over the teeth in the smile zone. They mask such flaws as gaps, crookedness, stains, crowding and misalignment, to create a symmetrical and pleasing smile.
The normal steps to the procedure are as follows:
Thin layer of enamel removed
Bite impressions taken and sent to a lab for fabrication of the porcelain veneers
Temporary veneers placed to protect the exposed portion of your teeth
After construction, final placement of the permanent porcelain veneers
In two-to-three visits, you'll have a smile that looks like it took years to acquire.
A Bright Smile with Teeth Whitening
If you have stained teeth, it's almost impossible for them to not be noticed. Thus, you may find yourself shying away from photos or close-up conversations. Professional take-home whitening provides the perfect remedy. Using high-powered bleaches that latch on to embedded stains in your enamel, your cosmetic dentist can develop a custom plan to rejuvenate your smile and leave your teeth several shades brighter.
What's Best for You?
To determine what plan is best suited to fit your smile desires, pay your local cosmetic dentist a visit. While there, you'll undergo a full examination so the professional can assess the current condition of your smile. He or she will also listen intently to your concerns so the two of you can form the perfect treatment plan.
You no longer have to live with the anxiety that can come along with having smile flaws. With expert cosmetic dental care, you'll be ready just in time for summer!
About the Author
Dr. Richard Thomas earned his dental degree from Case Western Reserve University. He received additional advanced training from the prestigious Las Vegas Institute for Advanced Dental Studies, which allows him to provide top-notch cosmetic dental care for his patients. Dr. Thomas creates beautiful smiles at Dental Group West, and he can be reached for more information through his website.