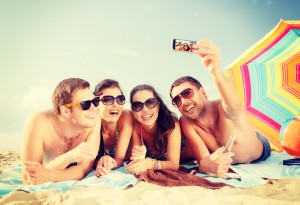 With summer just around the corner, many people are making sure they look their best for the summer season. Whether it is getting their hair done or they are in the gym getting their bodies ready for the beach, people are making sure they will be able to fully enjoy all the summer has to offer by feeling confident both inside and out. One thing people may be overlooking, however, is their smiles. There is no doubt you will reconnect with old friends and meet new ones this season, and making the best impression is crucial. Our doctors understand their patients wanting to look their best, and that is why they offer teeth whitening to their patients!
We offer at-home teeth whitening to our patients. This form of whitening is extremely convenient for our patients, and it is able to be done in the comfort and privacy of your home. We will provide you with everything you need in order to transform your smile. You will get custom made bleaching trays as well as the bleaching gel. The whitening gel we will provide you with is professional grade gel, so you are sure to receive the best results possible. All you have to do is simply put the whitening gel in the trays, and wear them for the allotted amount of time every day. You will see beautiful results in a week, and full, dazzling results in about two weeks!
With your smile brightened by six to ten shades, there is no doubt your smile will shine as bright as the summer sun this season! If you want to change your smile just in time for summer, make an appointment with our doctors at our Toledo, OH dental office today!
Contact our office in Toledo, Ohio today and schedule your appointment with one of our caring and experienced dentists. We are able to take care of whatever general, cosmetic, and restorative dentistry need you may have! Our patient-centered practice warmly welcomes families from throughout Toledo and the surrounding communities, including Bowling Green, Sylvania, Oregon, Perrysburg, and more.