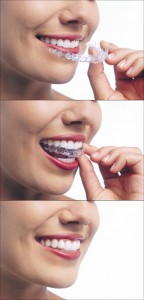 If you have gapped or misaligned teeth, you may find it difficult to be one hundred perfect confident in your smile. Though it may not be a big deal to some, having space between your teeth can really be a major insecurity to some people. You may have thought about getting braces, but the image of having a mouth full of metal may come to mind, causing you to swear braces off. Thankfully, our experienced and talented dentists are able to resolve this issue by offering Invisalign to their patients!
Invisalign is a revolutionary piece of dentistry, as it allows you to straighten your smile seamlessly and nearly invisibly. Invisalign works by using a series of retainers that are especially made to fit your mouth. Each aligner signifies your next phase is straightening your smile. Whenever you are finished with a certain aligner, simply apply the next one in the series! Unlike traditional braces, Invisalign does not use wires or brackets, so the pain and discomfort usually associated with straightening teeth is eliminated.
Another benefit of Invisalign is the fact you are able to have better oral hygiene. Whenever you need to brush, floss, eat, or drink, simply remove the retainer and reapply when done. You are able to be as discreet as possible while straightening your smile with Invisalign. Because a lot of people do not like for it to be apparent they are having work done, this is a wonderful way for you to be under the radar. If you have any questions on how our doctors can help straighten your smile with the use of Invisalign, contact our office today and we will be more than happy to assist you!
Contact our office in Toledo, Ohio today and schedule your appointment with one of our caring and experienced dentists. We are able to take care of whatever general, cosmetic, and restorative dentistry need you may have! Our patient-centered practice warmly welcomes families from throughout Toledo and the surrounding communities, including Bowling Green, Sylvania, Oregon, Perrysburg, and more.