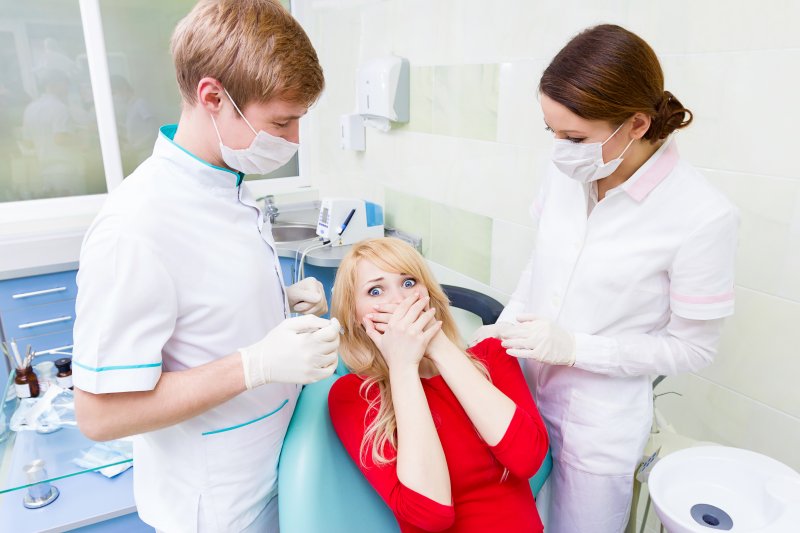 Are you looking for a good fright this Halloween? Roughly 25% of adults ages 65 and older have lost all their teeth! Scary, right? Though most oral diseases and other issues are completely preventable by simply keeping up with your oral health, they are still a huge issue in our society. Here are some of the most frightening oral health statistics we could find and how to avoid becoming one of them.
Terrifying Tooth Decay
Almost 18% of children between the ages of 5 and 19 and 91% of adults ages 20-64 have cavities. When we eat or drink things containing sugar, plaque forms on our teeth, and the bacteria in the plaque produces acids that eat away at the tooth's protective enamel. This forms a hole in the tooth, or a cavity. If left untreated, it can lead to further tooth decay and even tooth loss.
Ghastly Gum Disease
More than 47% of adults over the age of 30 and 70% of adults over age 65 have some form of gum disease. Gingivitis is a milder form of gum disease characterized by chronic bad breath, redness, swelling, bleeding gums, and irritation. As gum disease progresses, it turns into a more serious form called periodontitis in which pockets form in the bone and begin to collect debris. This can lead to infection and both gum tissue and bone will begin to break down. If it gets bad enough, the teeth may fall out or need to be extracted. Along with the same symptoms of gingivitis, poor tooth alignment is another common sign of periodontitis.
How to Slay the Monster
Are you scared yet? Have no fear! These issues are easily preventable. Some ways to keep from becoming an oral health statistic are to:
Brush your teeth at least twice each day
Floss at least once per day
Cut back on your sugar intake
Eat a balanced diet of fruits, vegetables, lean meats, and low-fat or fat-free dairy
Make sure you're getting plenty of calcium to promote healthy bones and teeth
Avoid using tobacco products which are bad for your teeth and gums
Visit the dentist regularly for checkups, cleanings, and to stay ahead of any potential dental health issues
With proper care, you can avoid serious oral health issues and costly treatments. Follow the steps above so you can enjoy a bright and healthy smile year-round!
About the Practice
Toledo is in good hands with Dr. Thomas, Dr. Weisenburger, Dr. Poole, and the rest of the team at Dental Group West. Their exceptional range of dental care services will not only meet but exceed your expectations. During your first visit, they will perform a thorough exam and take the time to learn what method of care works best for you. With Dental Group West, you'll soon be on your way to a more beautiful smile. If you're ready to make an appointment or have questions for their friendly staff, call their office at (419) 469-1485 or visit their website.