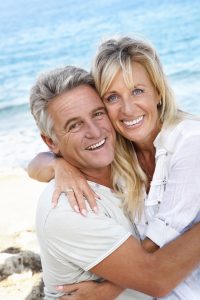 If you are one of the millions of American adults who are missing teeth, then you know the consequences can mean difficulty chewing and speaking. But did you also know that there could be ramifications to your general health, too? Having missing teeth puts you at greater risk for developing diabetes, cardiovascular disease and even some forms of cancer. Thus, the need to replace missing teeth is imperative. At Dental Group West, our dentists and their team offer a number of excellent choices for tooth replacement. Whether you choose a dental bridge, a partial and dentures or dental implants in Toledo, OH, you can be sure your smile will function well and look natural.
Dental Bridge in Toledo
The first option is a dental bridge. This replacement uses teeth adjacent to the gap in your smile to hold false teeth in place. Crowns are attached to the adjacent, or abutment, teeth and then pontics or false teeth fill the open space in your smile. The crowns and bridge are manufactured as one piece. With a crown and dental bridge, Toledo residents can look forward to years of exceptional service and quality.
Partial Dentures in Toledo
If you are missing one tooth here and one tooth there, then a partial denture may be the ideal choice for completing your smile. A partial can be manufactured to fit between and among your remaining teeth. This prosthetic consists of false teeth that are mounted on a gum colored base. Clips and brackets hold the partial securely in place.
To care for your partial you will need to use a soft brush and denture cleaner. Never sleep with your partial in your mouth. Instead, soak your partial denture in water or a denture cleaner overnight.
Dental Implants in Toledo
While a crown and bridge or partial denture is a good option for tooth replacement, neither can match the look and feel of dental implants. These prosthetics only replace the visible portion of a tooth. A dental implant, on the other hand, also replaces the root of a tooth. In this way, your tooth restoration—whether it is a porcelain crown for a single missing tooth or an implant-retained denture for several missing teeth—is firmly anchored and your jawbone remains healthy and strong. With a dental implant, Toledo patients at Dental Group West are able to chew, speak, smile and laugh with complete confidence.
Call Our Office Today for Tooth Replacement
If you or a loved one is missing teeth, then contact Dental Group West in Toledo, OH. One of our dentists will be able to advise you on what is your best tooth replacement option.