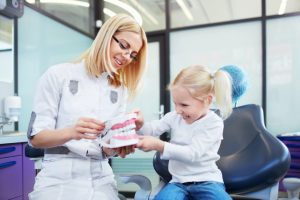 Dental Group West is your family dentist in Toledo who cares for your entire family's dental needs—even as those needs change. Throughout various stages of life, your family's dental needs will change. We provide the services your family needs through each stage to create beautiful smiles that last a lifetime. With our services for family dentistry in Toledo, we care for the youngest of patients with preventative care to ensure they have the right oral health foundation for a beautiful smile. As your children age, we are right by their side to provide the orthodontic care they need to promote the beauty of their smiles. We will even care for you and the senior members of your family with care that's specific to your current needs based on age and oral development.

Dental Care for Infants and Children
From the time your child's first baby tooth erupts, they require preventative care to protect their baby teeth from damage. In addition to allowing a child to learn to eat and speak correctly, baby teeth act as place holder's for the permanent teeth. The health of their baby teeth will directly impact the health of their permanent teeth. We provide the preventative care young children need to ensure they develop healthy teeth and gums. While building strong positive relationships with young children, we provide the dental cleanings and checkups, dental sealants, fluoride treatments and other preventative care children need.
Orthodontic Care for Teens
After your child has lost most of their baby teeth and the adult teeth are now in place, we provide orthodontic treatments. Orthodontic care is needed to ensure your child's teeth are properly aligned, including their bit. With the proper alignment, your child will have a decreased risk for gum disease and tooth decay, while we ensure their teeth align properly for correct oral functions.
Cosmetic Care for Adults
As we age, our teeth are likely to suffer from certain cosmetic flaws that are related to age, lifestyle factors, or dental problems that weren't corrected during adolescence. We understand that a less than perfect smile causes you to feel self-conscious, which is why we have the cosmetic services you need to promote a beautiful smile. Whether you needed tooth-colored fillings and crowns, teeth whitening, or porcelain veneers, we'll give you a dazzling smile that will last for years.
Restorative Services for Seniors
Throughout the years, our teeth begin to suffer the impact of age. It's not uncommon for our teeth to chip, crack, become decayed, or even fall out as we get older. We have the restorative services you need to protect your teeth as you age. No matter if you need a root canal, dental prosthetics or periodontal therapy, we have the specialized care needed to ensure the health and function of your teeth.
Your Family Dentist in Toledo
Dental Group West is committed to meeting your family's dental needs throughout the years. As a family dentist in Toledo, we have the comprehensive care your family needs through all stages of life. We'll care for every member of your family to ensure your family develops healthy, beautiful smiles to last a lifetime.