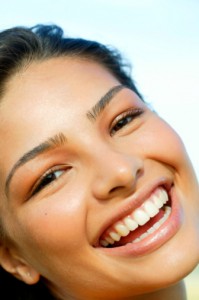 Dental Group West in Toledo, OH focuses on comprehensive, restorative and cosmetic dentistry, offering everything from dental implants to the newest lithium disilicate and ziconium crowns to teeth whitening and bonding. Whether it's a complete smile makeover, or just tweaking the appearance of a few front teeth, the Dental Group West team provides quality, compassionate care.
When you think of smile makeovers, an expensive bill may loom large in your mind. Lots of costly procedures, multiple appointments–that's what cosmetic dentistry in Toledo involves, right?
Well, think again, because the cosmeticdentists at Dental Group West in the Toledo and Sylvania area want you to know that small changes can impact your smile in a big way. Yes, some people need complex restorations and cosmetic services to restore their teeth to complete health and aesthetics, but Doctors Thomas, Poole and Weisenburger emphasize that sometimes repairing chips, hairline cracks, crowding and stains can be simple and affordable, too.
How would you like your smile to change?
First of all, cosmetic dentistry in Toledo starts with a comprehensive dental exam, including x-rays, cancer screen and assessment of the gum tissue and teeth . This helps to ensure a stable, healthy result. No aesthetic improvement can be sustained on an unhealthy foundation.
The Dental Group West team can transform a less than perfect-looking smile into an exceptional one. Are your teeth stained or uneven in length? What about gaps, chips or unattractive metal fillings–are you tired of covering your smile with your hand?
Your Sylvania cosmetic dentist will discuss your goals and present treatment options to create a natural-looking and durable smile. Dental Group West combines technical skill with artistry to deliver individualized aesthetics.
Dental Group West offers everything from teeth whitening to the latest crown and bridge technology to orthodontics.
Teethwhitening is an affordable and reliable way to make a cosmetic impact. Dental Group West features at-home whitening gel, delivered in custom-fit trays. Applied over 2 to 3 weeks, the gel removes discolorations due to age, smoking or foods and beverages. Color change can be dramatic. "Touch ups" over time can be done using the same trays and additional bleaching gel is always available.
Another way to improve a smile is through cosmetic bonding. Usinga strong composite resin (a hybrid of acrylic and porcelain), your Toledo cosmetic dentists can fill in small cracks, chips, gaps, exposed roots and unevenly worn surfaces for surprising results. Hardened with a special light for a durable finish, bonded teeth look beautiful for years.
The latest technology, lithium disilicate veneers, are a wonderful choice for more complex crowding, wear and overall unsightly smiles. Nicknamed "instant orthodontics," these custom-fitted laminates usually involve minimal enamel removal. They are bonded to the front of select teeth, and can create a life-like look that rivals the best that nature can offer. They can be applied to a few, or several teeth to totally transform a smile. The patient is involved in every step of the process, from the overall look and shape of the new teeth, to the color, to the final result. With proper care, veneers can last for many years.
Whether cosmetic changes to teeth are simple or complex, Dental Group West has solutions. Invisalignclearbraces, lithium dislicate crowns, tooth-colored fillings and state of the art dental implants are all tools routinely used to transform smiles and bites. If a smile makeover is in your future, try cosmetic dentistry offered at Dental Group West.
Call for an appointment.
Richard Thomas DDS, Tracy Poole DDS and Robert Weisenberger DDS understand that your smile is a big part of who you are and finding the ideal result for your needs is what they do best. Call Dental Group West for a consultation–(419) 469-1744.