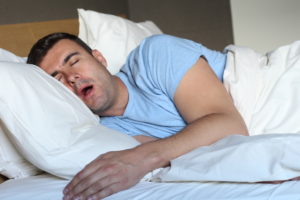 Many patients ask us about drooling. For the majority of people, a few nights of mild drooling can occur from time to time due to sinus issues or allergies, but for others, excessive drooling seems to be a daily part of life. While general dentistry treatments may not always be the right solution to address these concerns, the dentist's office is often a good place to start your search. We can complete an examination to help you determine the underlying cause of your drooling and partner with you to find the best treatments to meet your needs. Keep reading this post to learn more about the common causes of drooling.

Common Causes
Often, severe and uncontrolled drooling while awake is caused by serious illnesses like Parkinson's disease, Bell's palsy and cerebral palsy, or a traumatic brain injury. It can also be a result of Guillain-Barre syndrome, an autoimmune disorder that damages nerves. Epiglottitis is an infection that causes inflammation in the epiglottis, cartilage in the back of the throat, making it difficult to swallow. If you're struggling with drooling during sleep, the causes can be as simple as sleeping position, sinus concerns, or inability to completely close the mouth. Patients who suffer from sleep apnea may also experience excessive saliva production during sleep. Certain medications, hormonal shifts, and disorders can also cause the salivary glands to become over productive leading to drooling at night.
When Should I be Concerned About Drooling?
For the most part, drooling is not a serious concern. It's just something that happens from time to time. However, if you experience difficulty with any aspect of day to day life due to excessive saliva production, it's time to ask for help. Depending on the cause of your drooling, the dentist may be able to help you, but regardless of the underlying cause, the dentist is frequently the first to notice when there's a problem with over or underproduction of salvia. Your dentist can help direct you to the right medical professional for treatment or work with you to address the concerns.
Meet the Dental Group West Team
At Dental Group West of Toledo, we are here to help our patients live happier healthier lives. We offer a wide array of preventive, restorative, and cosmetic dentistry services in a comfortable, state-of-the-art office. If you're struggling with snoring or oral health concerns, let our team know. We'll be happy to help you, and if we're unable to provide the treatment you need, we can help you find the right medical professionals to help. Call our office anytime if you have questions or want to find out more.