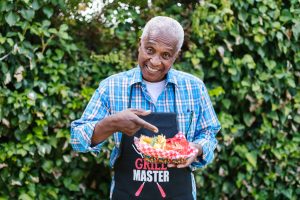 If you've recently received a new set of dentures, you've made an excellent investment. Besides restoring your confidence, you've also improved your quality of life. You can enjoy many of your favorite foods again, and just in time for summer. Although your dentures will function like your real teeth, it may take a few days to adjust to them. Don't worry, you don't need to skip the next family barbeque. Here are 5 tips to make eating with dentures easier.
1. Stick with Soft Foods
Your gums might be a bit tender for a few days after getting your dentures. Not to mention, you're going to need to learn how to eat with them. The transition process will be easier if you stick to soft foods for a week or two. There are plenty of great summer treats you can have without worrying about any discomfort, like yogurt, pudding, cold soups, and applesauce.
2. Be Cautious with Hot Foods
A warm cup of hot cocoa by the campfire is an excellent end to a summer day; however, it's best to be cautious after getting your new smile. Your dentures can insulate your mouth, which means you might not realize something is too hot until it's too late. You can avoid burning your soft tissues by taking small bites or sips to determine if it's the right temperature.
3. Stay Hydrated
Drinking plenty of water is crucial to staying hydrated during the summer. You'll also want to get into the habit of drinking more water after getting your dentures. Many summer foods contain sugars or starches, which means they can sling to your teeth. Although your dentures aren't at risk of decay, the food residue can lead to unpleasant odors and shorten the lifespan of your dentures. Drinking water will cleanse your mouth between brushing to keep your dentures looking and smelling their best.
4. Cut Your Food into Small Pieces
You don't want to bite off more than you can chew because your dentures can come loose. You can avoid the embarrassment of having your teeth fall out by cutting your food into smaller pieces. They'll be easier to chew while also placing less strain on your gums while they adjust to your new teeth.
5. Avoid Chewy or Sticky Foods
Your dentures will closely feel like your real teeth, but you might notice a few limitations when eating chewy or sticky foods. It's best to skip anything that requires a lot of chewing, like steak. Thankfully, there are many slow-cooked summer dishes for you to enjoy.
You can make the most of the sunshine and blue sky with a complete smile. After just a few days, you won't even notice you're wearing your dentures, so you can focus on exciting summer activities.
About Dr. Richard Thomas
Dr. Thomas earned his dental degree at the Case Western Reserve University and has completed advanced training in dental reconstruction, particularly for the elderly. He can treat complex oral health issues, like tooth loss. If you're ready to replace your missing teeth with dentures, contact our office today to schedule an appointment.