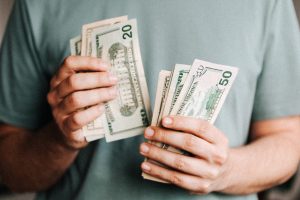 The 2021 tax deadline is right around the corner; however, many Americans have already received their refund. With extra cash on hand, you could take a vacation or purchase a big-ticket item, but why not invest in your future? Your oral and general health are closely entwined. Here are 3 ways you can use the extra cash to achieve a healthy mouth and body while cutting your long-term dental expenses. 
1. Schedule a Cleaning and Checkup
Research has found several connections between certain oral health issues and the risk of medical conditions. Gum disease is a leading concern because it has been linked to many health problems, like cardiovascular and Alzheimer's disease. Your toothbrush and floss aren't enough to keep tooth decay and gum disease at bay. The American Dental Association recommends visiting your dentist for a cleaning and checkup twice a year.
Many people skip routine appointments to save money; however, it leads to higher dental costs long-term. Research has shown every $1 spent on preventive dentistry can save up to $50 on restorative and emergency fees. If you have dental insurance, you likely have 100% coverage for preventive services after a copayment, which is a small price to pay for the benefits you'll gain.
2. Schedule Your Dental Procedure
It's not uncommon for people to delay dental care because they are concerned about the cost. However, a small cavity can turn into an infected tooth quickly. If you've been waiting to have a procedure until you have more money, like a filling, this is your chance to avoid a costly dental emergency later.
You can use your dental insurance to offset the amount you need to pay. Depending on the procedure, your benefits can pay up to 80% of the cost of common restorative treatments after meeting your annual deductible.
3. Give Your Confidence a Boost
The appearance of your teeth can affect your self-esteem and how others view you. If you're tired of gaps, stains, or chips being the focal point of your smile, use your tax refund to invest in a confident future. You have more options than ever to achieve a flawless smile with cosmetic dentistry.
Although it is unlikely your dental insurance will pay for any elective procedures, there are various options to fit everyone's budget, like dental bonding. Your cosmetic dentist will create the stunning smile you desire to look and feel your best.
Revamp Your Smile Today
If your tax refund is burning a hole in your pocket, take your first step toward better oral health. Your dentist will put the money to good use by ensuring your beautiful smile lasts for a lifetime.
About Dr. Richard Thomas
Dr. Thomas earned his dental degree from Case Western Reserve University and has regularly continued his studies in advanced services, like general and cosmetic dentistry. He strives to keep a healthy, attractive smile within everyone's budget. If you are ready to improve your oral health, contact our office today to request a consultation.