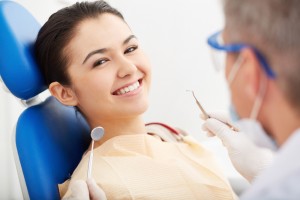 Now that school is around the corner, many people are getting prepared to start a new school year. Back to school shopping with tons of notebooks and pens may get you excited about school, but there is one thing you may not be preparing for. There is no doubt you are going to meet a lot of new people and reconnect with old friends when the school year beings again, and you want to make sure your smile is as healthy as possible. With regular dental checkups, you can be sure your smile is in tip-top shape just in time for the new school year.
When you come in for your dental checkup, one thing our doctors will do is evaluate the pocket depth of your gums, looking for any sort of decay, such as gum disease. Should we find signs of gum disease, we will be able to address the situation with nonsurgical procedures to get your smile back on track. We will also take x-rays of your teeth and jaw, making sure there are no underlying issues and that your bite is aligned.
We will also give your fluoride treatments during your dental checkup. Fluoride is a natural mineral that strengthens your enamel, making it harder for bacteria to break it down and cause decay. Fluoride also attracts other minerals, all contributing to a healthier smile! We also offer dental sealants, which are plastic coatings in the grooves of your teeth that prevent bacteria and other particles from falling into the crevices of your molars. If you are ready for your dental checkup and would like help from our doctors, contact our Toledo, OH office today, and we would love to help!
Contact our office in Toledo, Ohio today and schedule your appointment with one of our caring and experienced dentists. We are able to take care of whatever general, cosmetic, and restorative dentistry need you may have! Our patient-centered practice warmly welcomes families from throughout Toledo and the surrounding communities, including Bowling Green, Sylvania, Oregon, Perrysburg, and more.