Single Tooth Implant – Toledo, OH
Restore a Confident, Complete Smile
We can preserve your natural teeth for longer than ever through a focus on prevention and using the latest innovations in dentistry. Despite the advancements, 120 million Americans are missing at least one tooth. If you're among those who have an incomplete smile, we have the solution you need to fill the space. Besides traditional treatments, we also specialize in dental implants. We'll help you enjoy a beautiful, functional smile using a personalized plan.
Single Tooth Replacement Options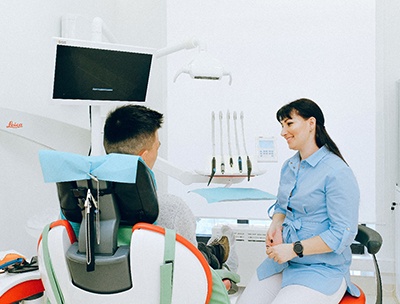 Every tooth is crucial to a healthy, functional smile. Losing even one can have devastating consequences because your jawbone will slowly shrink since it isn't being stimulated by the root. Over time, your remaining natural teeth can drift out of position because they don't have the support they need. You'll have an increased risk of cavities, gum disease, and additional tooth loss. With each one you lose, you'll struggle with many new complications, like chewing a variety of foods to maintain a balanced diet.
We can help you conquer the challenges of tooth loss by filling the gap. After an initial consultation, we'll create an individualized treatment plan, which can include:
Fixed Bridge: Also known as a bridge and crowns, this method is the most traditional option to fill the space of a missing tooth. Your dentist takes an impression of your mouth to recreate the portion of your tooth visible above the gum line. It's held in place by bonding dental crowns over the adjacent teeth. You'll need to permanently reshape the abutment teeth to support the crowns.
Single Tooth Implant: A dental implant recreates the entire tooth, including the root. An implant post is surgically placed into the jawbone to act as a root. Through a process called osseointegration, your bone fuses to the post, allowing it to potentially remain in place forever. An abutment is attached to the post to secure your custom-made restoration after your jawbone has healed. When compared to a fixed bridge, a dental implant is a nearly perfect replica of your tooth.
The Benefits of Implant-Supported Tooth Replacement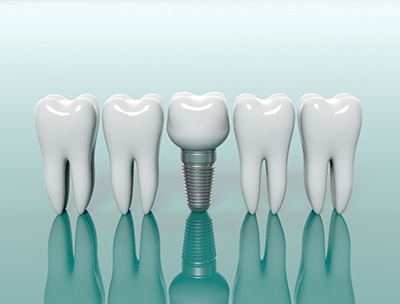 A dental implant closely mimics your natural tooth. As a result, it provides various benefits that aren't possible using the traditional treatment, such as:
Over a 95% success rate to last for several decades with the right aftercare.
Looks natural using all-ceramic material to smile confidently.
Regain as much as 70% of your natural biting force.
Doesn't rely on healthy teeth for support.
Preserves your jawbone to stop dental drift.
Improves your oral health and protects your natural teeth.
Brush and floss as you do your real teeth for an easy oral hygiene routine.
Long-term, cost-effective treatment that shouldn't need to be replaced.
Schedule Your Consultation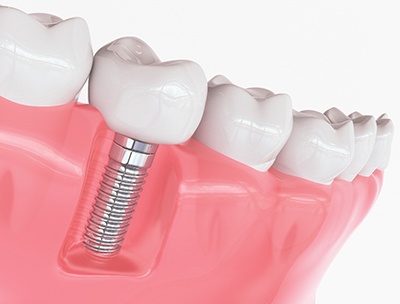 If you're ready to rehabilitate your smile, make an investment in your confidence and your quality of life. We have the high-quality prosthetic you need to replace your lost tooth. Take your first step toward a beautifully restored smile. Contact our office today to schedule your consultation for single tooth replacement.